If you're traveling on a budget and looking for free things to do in Morocco, we've got your back.
While activities like camel trekking, desert tours, or Hot Air Balloon Ride aren't free and can be costly, there are numerous other activities you can enjoy without having to pay for them.
This North African country provides a wide variety of things to see and experience, including many different places to visit and opportunities to engage with its rich culture.
So, to help you enjoy your time in Morocco without worrying about your budget, we have highlighted some Free Things to consider when planning your trip to Morocco:
Lose yourself in the Medinas of Morocco
Walking through the Medinas of Morocco is like stepping into a maze of alleyways that can lead you to unexpected discoveries. Each Medina has its own unique charm and beauty, they are usually surrounded by walls and filled with narrow streets, and busy marketplaces.
What you should know is that Medina is not only a place to shop or explore; it's also an adventure that will tantalize your taste buds, you can experience authentic Moroccan cuisine, from street food stalls serving flavorful tagines and freshly baked bread to cozy cafés offering mint tea.
We think these 5 Medinas are the best to visit in Morocco: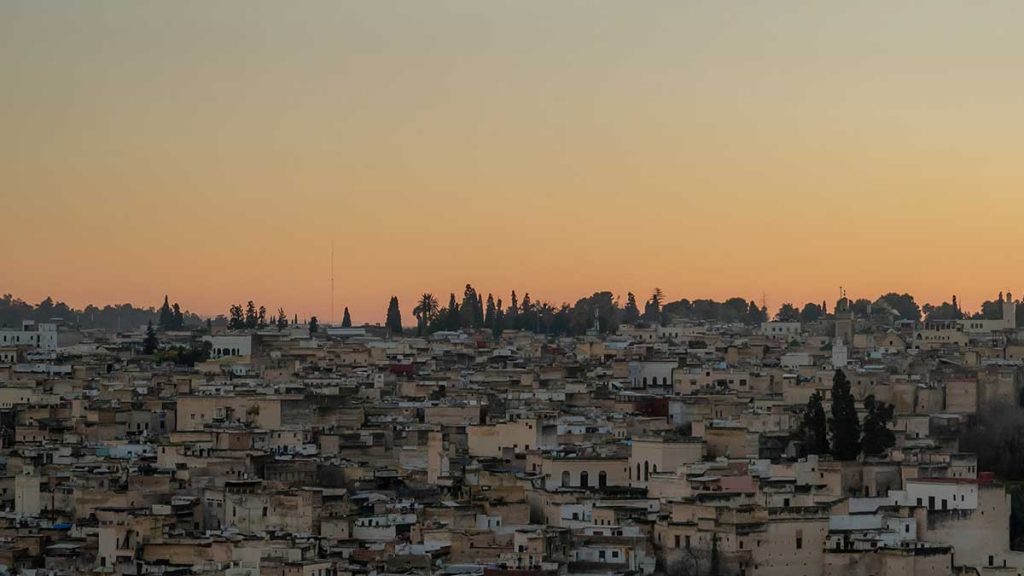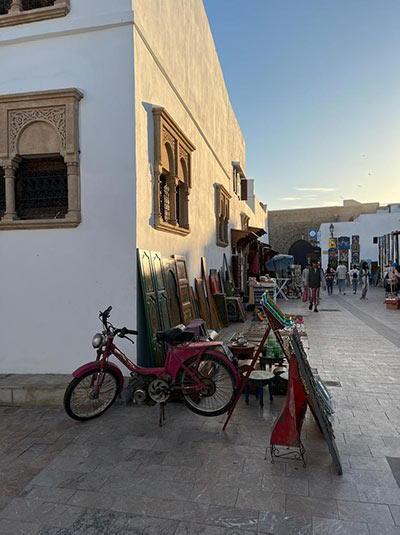 Souks – Street markets
Souk is a traditional Arabic market for everyday products. However, in Moroccan Medinas Souk is more like a bazaar, a huge market where you can find everything from food, clothing, shoes, traditional rugs, and ceramics fabrics to jewelry.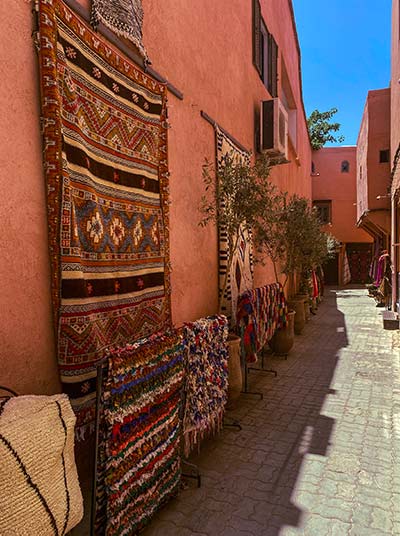 If you ever visit Morocco, you should never miss on visiting Moroccan souks, they are great places to get closer to the culture of Moroccans, even if you aren't intending to shop – but let's be honest who goes to Souks without coming back with at least one souvenir for himself or for his beloved ones?!
Now we'll highlight some of the must-visit Souks in Morocco:
Souk Al'Attarine: A spice square where you can find any spice you want.
Souk Fekharine: Pottery market where plates, tajines, and bowls are made and sold.
Souk Semmarine: the main focal point of the souks in Marrakech where you'll find other smaller individual souks.
Jamaa El Fena: most visited in Marrakesh, it's a marketplace known for street food stalls, orange juice vendors, and argan oil.
Souk  Derb Ghallef: A very famous market in Casablanca, known for good deals when buying electronic products. 
Souk Derb Omar: Also in Casablanca, it's the largest market in Morocco, known for clothing, and cosmetics.
Visit the Historic sites of Morocco
Losing yourself in the Souks or in the Medinas of Morocco is cool, but there is more to this country; a depth that goes beyond its beauty and that is its historical sites.
Visiting the Historic sites is one of the free things to do in Morocco if you want to explore the North African country's rich history, and because we know it can be confusing where to begin, we've made it easy for you, Don't worry!
Chouara Tannery: Visiting Chouara Tannery in Fez City is a unique experience, you get to explore one of the largest and oldest tanneries in the country, where animals' skins are processed in order to make leather for human use. what makes this tannery even more unique is that you'll see how leather used to be made years from now.
The Oudaya Kasbah: Located in Rabat city and constructed in the 12th century and restored several times over the years, it has served as a dwelling for Arab tribes, Andalusian immigrants, and influential Moroccan sultans. Today it is considered one of the country's most unique sites. and is the first milestone of the city of Rabat.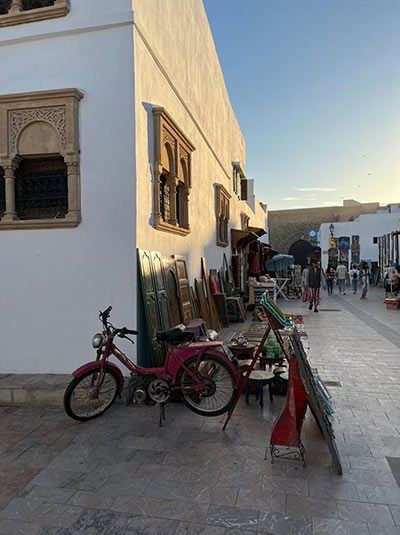 The Ancient Roman City Volubilis: Located between the Imperial Cities of Fez and Meknes, in the foothills of the Zerhoun massif. Volubilis is the largest site in Morocco with a surface of 18 hectares, and it's an open space for everyone to explore.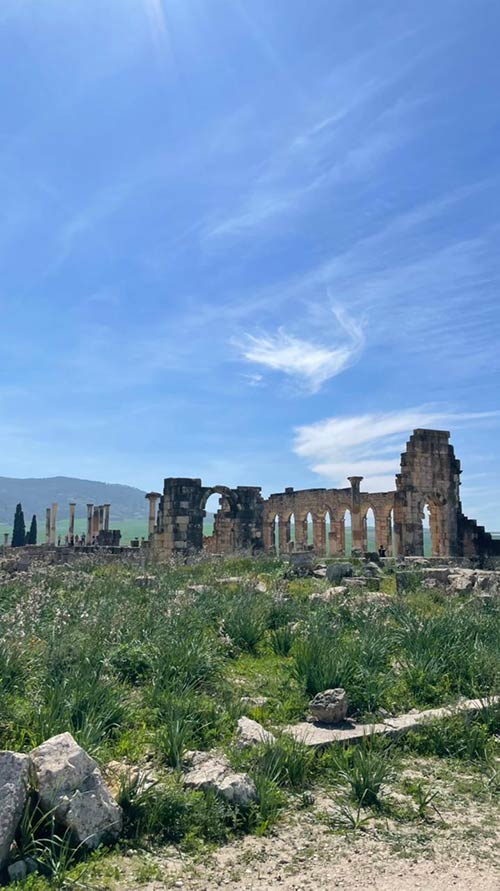 Ksser Ait Ben Hadou: A mud town located in southern Morocco, about 30 kilometers from the city of Ouarzazate. If you're Games of Thrones fan then you shouldn't miss on this iconic stop.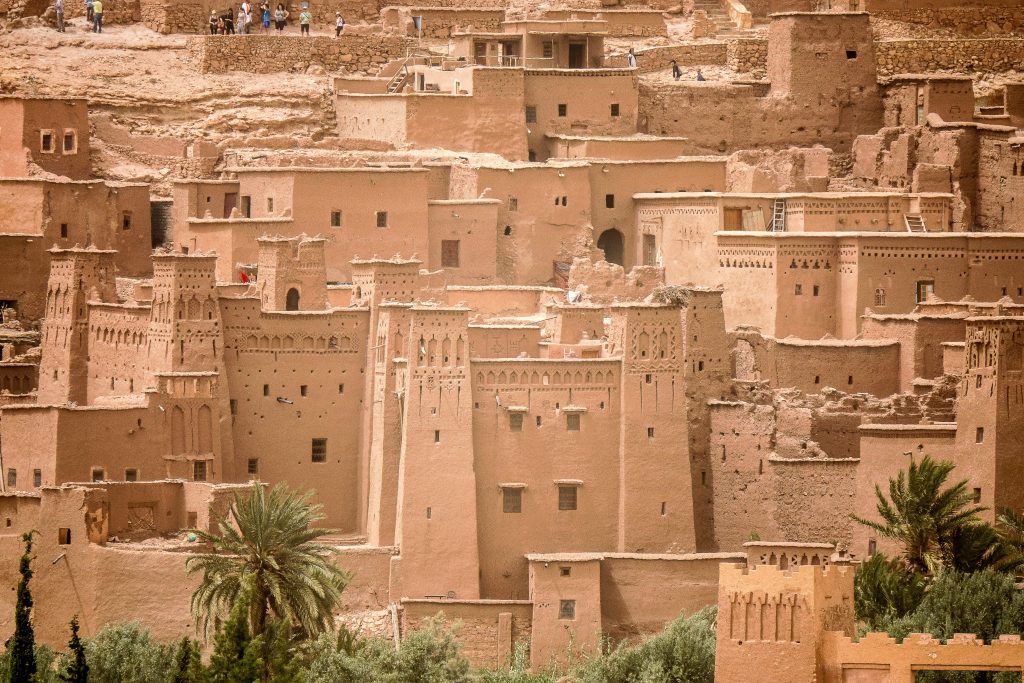 Ait Ben Haddou is one of the most attractive places for tourists due to its unique architecture and incredibly magical ambiance and also because Ait Ben Haddou has been a set for many movies including Game of Thrones, Gladiator, The Mummy, Lawrence of Arabia, and many more.
Attend Festivals and Cultural Events
Morocco, as a country with a rich cultural Heritage, has numerous festivals to enjoy. and because we know well that you're looking for FREE things to do in Morocco we've made a list of festivals that you can attend for free:
Fes' World Sacred Music Festival is an annual music event that takes place in Fez City in the middle of summer, specifically in late May or early June. This festival serves as a 10 days celebration to honor international artists from all over the world, representing diverse religious backgrounds from Muslim, Jewish, Christian, and Hindu, to other faiths. the main purpose of this event is to showcase the rich diversity of spiritual music from around the world.
Gnaoua and World Music Festival is one of Morocco's major cultural events, which is held each June for four days in Essaouira. The event celebrates the vibrant and spiritual Gnaoua music, which is deeply rooted in the culture of Morocco as well as other various genres of music such as jazz, African blues, rock, and American.
In addition to music performances, the Gnaoua Festival also features exhibitions, workshops, and discussions on Gnaoua culture, history, and spirituality.
Kalaat Mgouna Rose Festival is a cultural event held in the town of El-Kelaa M'Gouna, located in the Valley of Roses in Morocco, and takes place in May, coinciding with the blooming season of roses. You will lose yourself in the exquisite rose displays, divine food, and a lot of Amazigh ( Berber) music and dance performances which add a lively and festive ambiance.
International Nomads Festival is one of the most important festivals in the south of Morocco, it usually takes place in March, in M'hamid El Ghizlane.
During this Festival, you can expect a range of cultural activities and performances as many nations come together to celebrate with music, poetry, storytelling, and cultural dances, as well as workshops and conferences where you can learn about the nomadic lifestyle, traditional practices, and the challenges faced by nomadic communities in the modern world.
You can also read about summer festivals in Morocco.