The Moroccan crafts scene is as rich and diverse and incredible as the rest of Morocco is. On top of its stunning nature and amazing weather, and its incredible old medinas and colorful iconic cities. The amazing Moroccan craftsmen you'll meet along the way working on their amazing diversity of the crafts will make you fall in love with Morocco just that much more.
Here are and in no particular order the top most amazing Moroccan crafts to not miss out on when on your next visit to Morocco.
Fez's leather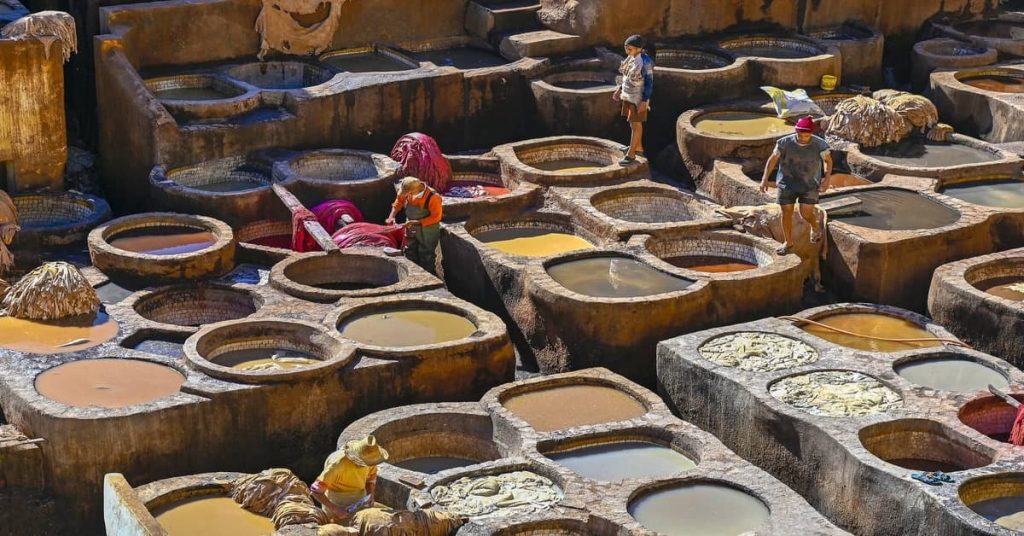 Fez is most known by its traditional Moroccan leather industry, that's definitely something to not miss out on when visiting Fes, none less Leatherwork is a tradition linked to many cities in Morocco, such as Fez, Meknes, Marrakech, Rabat, Tetouan, Tangier, where half of the leather production comes from.
When it comes to leather products shoes, bags, purses, jackets, you name it Morocco has it and in many amazing designs too!
Pottery and ceramics
One of the great artisanal specialties of Morocco is the work of ceramics. You can find most of Morocco's finest potters in the Safi region.
The best-known and best-selling product is the essential tajine.
While most painted tagines that are sold in old medina's shops are for purely decorative use, almost all Moroccan families own and use an undecorated "beldi" tagine, for food use, on a daily basis.
Moroccan pottery also produces ashtrays, vases, dishes, salad bowls….which I bet you when walking by one of Moroccan's many beautiful ceramics shops, you won't miss it. The colors, the pattern and the beauty of these incredible stores are unmatched, if you could resist the urge to buy them all, they'd make for the perfect background of your next insta pic.
Moroccan rugs
The Moroccan rug is probably the most famous Moroccan craft product in the world. Authentic and handmade, they're known for their high quality which on top of their amazing designs and patterns makes them very durable.
It is one of the most attractive ethnic decorative pieces. Passed down from woman to girl for generations throughout history, the Moroccan rug has conquered the world thanks to the beauty and uniqueness of its colors and patterns.
Moroccan crafts: Woven work
Woven is a basic element in the daily life of Moroccans. It is a profession that was once most often reserved for men, they braid while drinking their tea and talking. This work has now been taken up by craftsmen of all ages with doum from the region of Essaouira, Massa and Marrakech.
Woven items (baskets, shopping bags, plate placemats, hats, etc.) are exhibited in the souks and alleys of the medinas.
if you need a cute little tote to take on the rest of your vacation in Morocco with style? A handmade cute woven basket is your answer!
Moroccan crafts: Metal work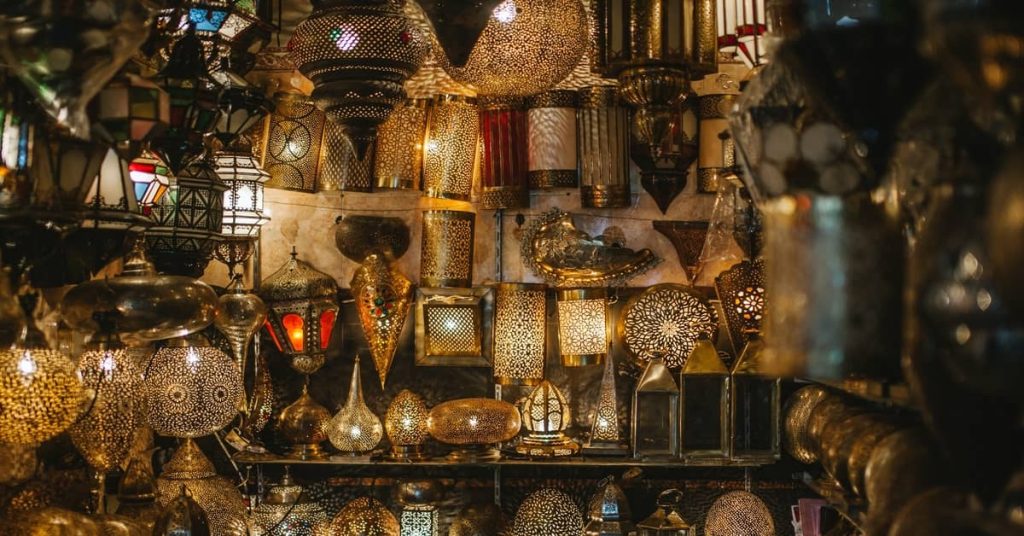 During a visit to the medina of Fes or Marrakech, you will be challenged by the resonance of the sound of a hammer against metal. It's the metal craftsmen who are at work! We find this craftsmanship everywhere in Moroccan architecture and furnishings. Several metals are shaped: iron, copper, brass, lead, zinc and magnesium… To make for amazing chandeliers, sconces,lamps and mirror frames.
Don't miss out on the beautiful artwork while walking by the shops, don't forget to check out the beautiful lights the Moroccan metal lamps casts.. definitely made of a dreamy pathetic ambiance
Moroccan Jewelry
One of the most loved and admired possessions Moroccan women own is the Moroccan jewelry. Was in Gold, silver, stones and beads, Moroccan jewelry is a must have in every Moroccan women's closet and why not yours as well!
The traditional art of making Moroccan artisanal jewelry can be attributed, for the most part, to Morocco's Jewish population, back in the day. see more about the jewish heritage in morocco here