Fez is the world's oldest operating medina and a UNESCO World Heritage Site. Fez shopping is a one-of-a-kind experience where the old meets the new. Fez offers a diverse selection of traditional Moroccan handcrafted goods including clothing, jewellery, carpets, pottery, metalwork…I'll let you now discover some amazing places where you can shop in Fez!
Galerie Art en Coin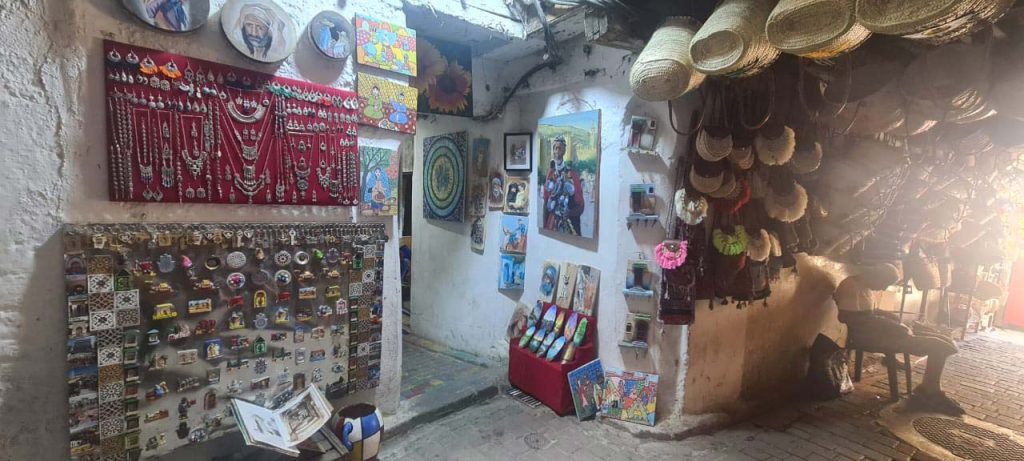 The art gallery "Galerie Art en Coin" is a unique and distinguished place with its location near the bustling Nejjarine Square in the heart of the city of Fes. It stands out for its diverse collection of visual art, showcasing various forms of fine art.
This gallery presents a diverse range of artistic creations, including oil paintings, watercolours, acrylics, as well as works on canvas, wood, and leather, offering a captivating array of artistic styles. The exhibited artworks draw inspiration from the old city, capturing the essence and beauty of ancient Fes.
Moreover, this gallery offers workshops for learning Arabic calligraphy and drawing, enabling learners to take home the fruits of their accomplished work. Given the artistic splendour reflected in this venue and its focus on portraying the old city, a visit here promises to be an enchanting and stimulating journey of exploring the beauty of art and the cultural heritage of Fes.
Coin Berbère
If you want to be surrounded by things both gorgeous and rare, then Coin Berbère is your go to shop in Fez. It is a treasure in the Medina of Fez owned by Bouzidi Idrissi brothers, and was mentionned in the New York Times magazine.
The shop includes a vast collection of rare Moroccan antique fabrics, 17th and 18th-century wooden doors, ceramics, exquisite embroideries, silver jewellery, historic silk caftans, and a large range of carpets from over 40 different tribes.
Fondouk Kaat Smen
Fez's unique Honey Souk is possibly the most peculiar of all the anomalies in a Medina yet crowded with them. Locals line all day for single-origin wild honey, such as orange flower, acacia, saffron, and fennel and other unusual treats like caper and carob, which is consumed for both culinary and medicinal purposes.
Sellers give samples to shoppers and the sweet delight is ladled into little plastic cartons for take-out. Honey, along with olive oil and khliyah, is a relatively new addition to Kaat Smen's menu. So are you ready to taste your way through as many as 17 different wild honeys in this amazing shop in Fez?
Place Seffarine
The Seffarine Square is a small square located in the heart of the medina of Fez el-Bali, between the souk of the dyers and tanners. It is one of the most charming and authentic places where to shop in Fez and it takes its name from the coppersmiths who practiced a craft of great importance in the history of Fez.
Due to their expertise, all kinds of utensils are made: teapots, trays, pots, buckets, perfume burners, trays, tea and sugar boxes, high braziers, kettles, couscous pots…Although today's boilermakers are almost exclusively dedicated to repairing old vessels, you will still find them striking the metal to give it shape in a remarkable concert of sonorities.
Medin'Art
The city of Fez's first concept shop is located in the heart of the medina. Laurence Alberro, a charming Frenchwoman who works with Moroccan designers to present one-of-a-kind creations, runs the shop. From clothing to various accessories, you'll find a lovely selection of handcrafted things manufactured using local resources in this well-organized boutique. They have the most up-to-date trendy pieces as well as classic slippers, purses, unique coats, traditional shirts, scarves, and jewellery.
So, whether you're seeking for high-quality products for yourself or as gifts, this is a fantastic boutique where you can shop in Fez that showcases Moroccan artists.
Talaa Kbira
Talaa Kabira joins Talaa Saghira and flows through Fez el Bali. The most traditional of Fez's two main shopping streets and one of the most colourful and interesting lanes where you can shop in Fez. It's a veritable smorgasbord of carpet vendors, leather babouche manufacturers, Berber jewellery sellers, fondouks bursting at the seams with handmade pottery, food outlets, spice shops, butcheries and much more.
Henna Souq
It is one of the oldest and most pleasant marketplaces in the medina. If you want to learn about the interesting diversity of natural items Moroccans use on a regular basis, this is an excellent location to shop in Fez. This souk has long been known as a bazaar for traditional cosmetics and pharmaceuticals.
The star product of the stalls is henna, which is commonly used by Moroccan women to color their hands and hair and lends the souk its name. Other traditional cosmetic and therapeutic products include rassoul, soap, kohl, rose water, and so on. Recent stores have also specialized on selling pottery.
Souq R'Cif
R'Cif refers to a paved road. Next to the R'Cif square is this covered wooden market. It is the area's primary food market. It is the ideal fresh products location to shop in Fez.
It is one of the most important souks in the medina because it brings together traders for all of the freshest foodstuffs and necessities of Moroccan cuisine, such as fish merchants, butchers, sellers of dried meat fats, vegetables, and so on. As a result, it has always attracted a large and diverse clientele made up of residents of Fez.
Les jardins des Biehn
The Owner, Michel Biehn, curates a great variety of superb Moroccan goods inside the charming hotel Jardins des Biehn. This antique costume collector has a variety of intriguing items in a wonderful store where you can shop in Fez, with plenty of surprises.
Textiles, embroidery, pottery, basketry, tableware, jewellery, traditional babouche suitable for wearing around the house to bring back memories, a range of leather bags created from local leather and other high-end accessories are all available. There are also antique fabrics and traditional Moroccan clothing, such as djellabas and caftans.
Art Naji
Are you intersted in Fez's magnificent ceramics and tiles? Then Art Naji is your must-stop to shop in Fez. Since 1930, Art Naji and the Fakhari brothers have been creating high-end items that are noted for their aesthetic excellence and authenticity. All of the pottery is manufactured on site by men who turn the wheel by hand to create the pieces, which are then put in a traditional urn for up to four days before being painted in traditional style and colours.
Stop over if you're searching for a mosaic piece and watch the artisans hammer the small forms (stars, hexagons and squares) into position before laying everything down and producing a work of beauty. Even simply watching the process is worthwhile!
Read also: Where to shop in Casablanca