I am pretty sure you've heard of Moroccan Couscous before, or maybe even tried it, and absolutely loved it, so now you're wondering: What is this Moroccan Couscous? How do I make it?… No worries, I've got your back. As a Moroccan, I have all the answers to your questions.
What is Moroccan Couscous?
Moroccan Couscous is a traditional dish in North Africa, made every Friday when all the family gathers around the table to enjoy the delicious flavour of couscous. Couscous is a colourful dish made of tiny, steamed balls of semolina flour (a type of wheat) and water, topped with meat of your choice, a mix of cooked vegetables and a tasty broth.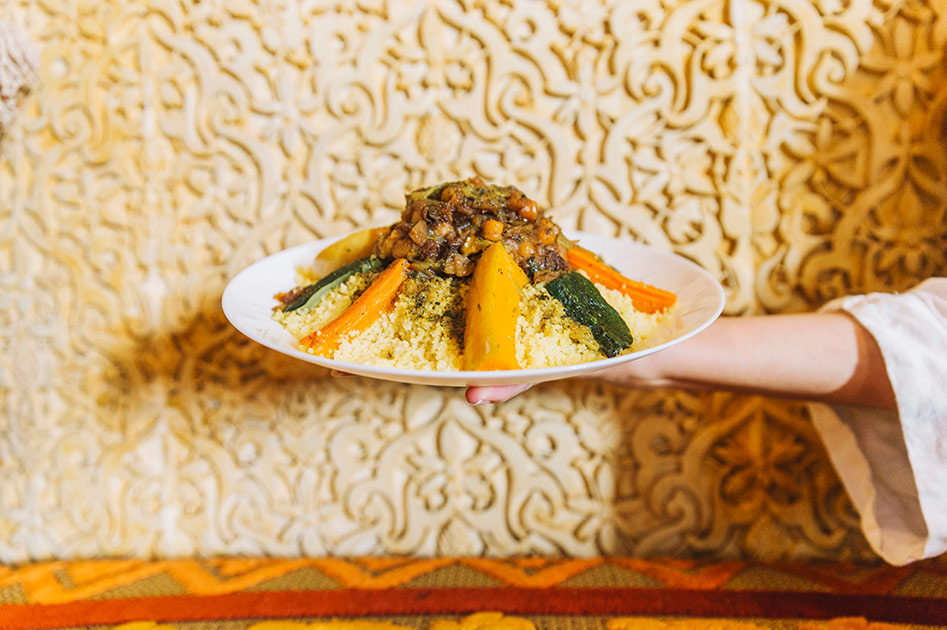 From what is Moroccan Couscous made?
As you're making your first Moroccan Couscous, you want to begin with:
The couscous:
1kg of semolina flour (made from durum wheat, commonly used in pasta).
6 cups of water.
1/4 cup of olive oil or vegetable oil.
3 tsp of salt.
The meat and broth:
1 kg of your preferred meat (lamb, beef, goat, or chicken).
3 fresh tomatoes (peeled and coarsely chopped).
1 large onion.
1/4 cup of olive oil or vegetable oil.
1 1/2 tbsp of salt.
1 tbsp of ginger.
1 tbsp of pepper.
1 tsp of turmeric.
A handful of parsley and cilantro sprigs tied into a bouquet.
The vegetables:
1/2 cup of dried chickpeas (soaked overnight).
1 small head of cabbage (cut in half or quartered).
3 medium turnips (peeled and cut in half).
5 to 7 carrots (peeled).
4 or 5 small courgettes (ends trimmed, or 8-ball round cut in half).
2 small tomatoes (peeled, seeded, and quartered).
2 small onions (cut in half).
2 or 3 potatoes (peeled and cut in half).
1 small acorn squash (quartered).
Once you have all these ingredients ready, you're probably wondering what's next, right? You can start preparing your delicious Moroccan Couscous!
How to cook Moroccan Couscous.
Now you've finished preparing all the ingredients, let's begin the cooking:
The first thing I suggest doing is to soak the dried chickpeas in water overnight.
Brown the meat or chicken with oil, onion, tomatoes and spices in a large pot until a thick and rich sauce forms.
Add the soaked chickpeas, parsley/cilantro bouquet and water. Cover and cook for about 30 minutes.
Add oil over the couscous and toss it between your hands to distribute the oil evenly.
Add water and work it into the couscous the same way until well blended.
Steam the couscous for 15 to 20 minutes.
Return the couscous to the bowl and work in water as before.
Add salt and more water, and steam for another 15 to 20 minutes.
Add turnips and carrots to the pot and cook while working more water into the couscous.
Steam the couscous again until light and fluffy.
Arrange the couscous into a mound and make an indentation in the middle to hold the meat.
Place the meat in the center, and arrange the other vegetables around it.
Garnish with chickpeas, chili peppers, and the parsley bouquet if desired.
Add broth over the couscous and offer the remaining broth in bowls on the side.
FAQs about Moroccan Couscous.
From what is Moroccan Couscous made?
Moroccan couscous is made from two main ingredients; semolina flour and water. Semolina is a type of flour made from durum wheat and is commonly used in various traditional pasta dishes. When mixed with water, it forms the basis of delicious Moroccan couscous.
Is Couscous a protein or a carb?
Couscous is mainly a carb since it is made from wheat. Although it does have some protein, the amount of carbohydrates in each serving is much higher. So, it's mostly classified as a carb-rich food.
Is Moroccan Couscous a grain?
Even though it looks similar to grains like barley, quinoa, or rice, Moroccan couscous is not a grain. It is actually a type of pasta. Both pearl couscous and Moroccan couscous are made using semolina flour and water, just like traditional pasta.
How healthy is Couscous for you?
Whole-grain couscous is considered healthy because it is a good source of fiber. Fiber is beneficial in many ways. It can prevent sudden spikes in blood sugar and make you feel full for a longer time. Additionally, it plays a role in reducing cholesterol levels, which can lower the risk of heart disease. So, including whole-grain couscous in your diet can be a healthy choice.