For ages, people from all around the world have been admiring the charming beauty of Moroccan women. They are known not only for their mouth-watering dishes, but also for their candid facial features, that capture hearts at first sight. But, have you ever wondered what the secret is behind their flawless skin?
Moroccan Women, since the beginning of times have been interested in traditional, plant-based ingredients in their skincare routines.
Today, the world is finally witnessing a growing trend towards natural and organic beauty products, which are made with safe, non-toxic and environmentally-friendly ingredients. Some of which have been the key elements of the Moroccan beauty routine, for centuries.
In this article, we will share some of the Natural Moroccan beauty secrets and tips that will transform your beauty rituals. Join the rising trend and get the natural glowing skin you have always wanted!
Moroccan Oils: Natural Moroccan Beauty Secrets
1. Argan Oil: The liquid gold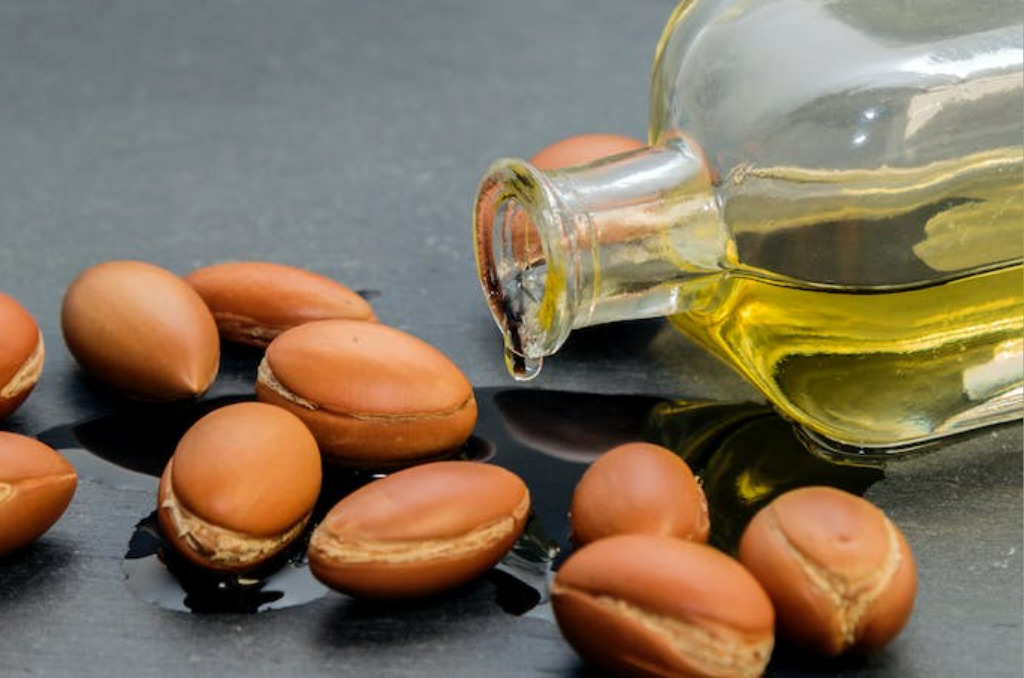 For many years, Moroccan people have extracted Argan Oil from the seeds of Argan trees in Southwest Morocco, an oil that serves many purposes. In addition to its culinary use, this gold liquid have shown many benefits in the cosmetic world.
Incorporating it into your skincare routine is viewed as one of the top Moroccan natural beauty secrets for a healthy and radiant skin, one little bottle of it can be used in a variety of ways.
Argan oil has shown miracles throughout the years, not only on hair but also face and skin for its nourishing and healing properties. In fact, it can treat multiple skin conditions, such as dryness, acne, inflammations and minor burns thanks to its high concentration of vitamin E that help heal and protect the skin.
2 drops of Argan Oil can be great for dry and sensitive skin. However, a patch test is recommended before applying it on an oily skin.
Packed in Omega-6 fatty acids, this miraculous oil is an anti-aging remedy; it helps in reducing wrinkles by moisturizing the skin and making it firmer and plumper. Besides its rejuvenating effects, Argan can do wonders on hair as well; it can be used as a conditioner making it shinier, healthier and stronger.
Order your Argan bottle now and say goodbye to dry skin, damaged hair and wounds!
2. Prickly Pear Seed Oil: The Luxurious Oil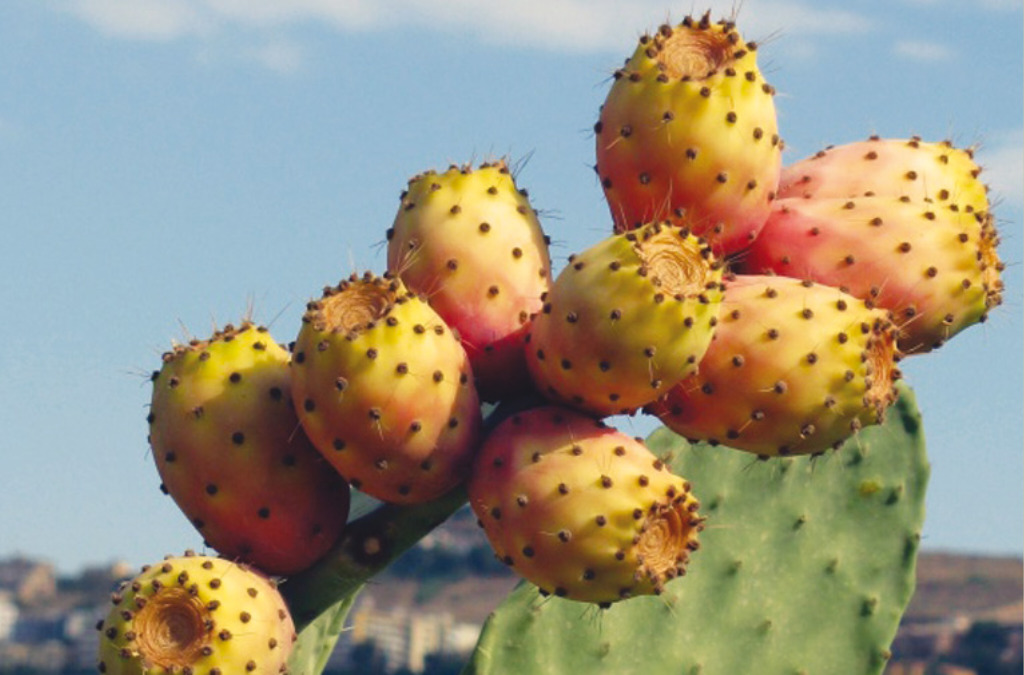 From the Western Sahara desert of Morocco to the global beauty market, Prickly Pear Seed oil has gained a well-deserved reputation for its effective anti-aging properties.
This natural Moroccan beauty secret has been making a big splash recently thanks to its high levels of antioxidants and fatty acids. It is a non-greasy solution for various hair and skin needs.
Known for its ability to target wrinkles and dark spots, Prickly Pear Seed Oil is one of the most favored cold-pressed oils among both locals and tourists.
Actually, this oil as expensive as it can get, it is still worth the price; its concentration of unsaturated fatty acids and vitamins E & A is the highest among cosmetic oils.
Apply 2 to 3 drops of Prickly Pear Seed Oil after your favorite moisturizer – Use this Beauty Tip if your skin is feeling particularly dry and dull.
With 1.5 times more vitamin E than Argan oil, the Cactus Pear oil seems to work miracles. It keeps your skin looking young and your hair feeling healthy.
Fun fact: To produce only one liter of this precious oil, we need approximately one ton of Prickly Pear Fruit!
How to use Moroccan Oils on face?
Argan Oil – For all skin types ( In moderation for oily skin )
Apply 1 to 2 drops of Argan Oil onto your hands – Add more if the skin is too dry
Use your fingertips to gently massage your face in circular motions, until it is completely absorbed
Best use it during your evening skincare routine, after a light moisturizer – Can be used on a daily basis
Prickly Pear Seed Oil – For all skin types
Put 2 – 3 drops of the oil in the palm of your hand, rub your hands together
Massage the oil into your skin – Preferably damp skin for better results
It is safe to be used during both your morning and evening skincare routine – Can be used on a daily basis
3. Rhassoul Clay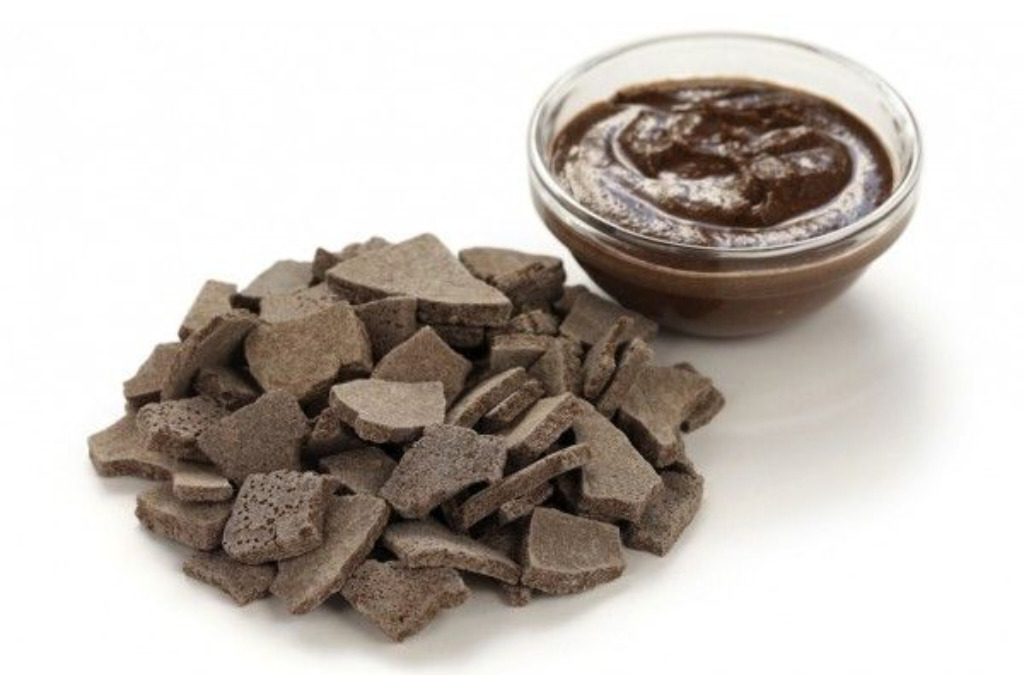 Looking for another natural Moroccan Beauty Secret straight from the atlas mountains? Look no further, the Moroccan Rhassoul Clay might just be the one for you! This mineral-rich ingredient is a favorite among women from all around the world for its ability to cleanse and refresh hair and skin.
It is a natural and gentle clay that has been used for so long by the Amazigh women of Morocco for both hair and skin.
Packed with minerals and especially with Silica, it is believed that the Moroccan red clay is the most powerful among all other types of clay; its strong absorbing and exfoliating properties are the most efficient of all of them.
Using Rhassoul regularly can improve skin texture, reduce the appearance of fine lines and wrinkles, and cleanse your face and scalp.
How to use Rhassoul Clay Powder?
You will mostly find it in a dry condition. So, in order to use it, add a liquid to form a paste and then rinse it off with warm water after letting it dry. It is often mixed with Rosewater, Argan oil or just plain water, based on your personal needs.
For face
It can be used as a face mask to:
Deeply exfoliate
Reduce blemishes and acne
Remove toxins
Unclog pores.
For body
A natural dry soap or body scrub for its antimicrobial properties
A gentle detoxifier used in the finest spas in Morocco and all over the world
Cleanses the skin of oil and impurities without drying
Leaves the skin smooth, fresh and moisturized
For hair
As a hair mask, hair conditioner or a natural solid shampoo:
The natural silica acts as a gentle scalp exfoliant
Gives the hair more definition and volume
Stimulates hair growth
Unclogs the hair follicles.
Mixing Rhassoul Clay with Aker Fassi, can work wonders on your skin. It is the perfect combination for all skin types; it can be used as a body scrub or a face mask for brightening and purifying effects.
So, if you are looking for a natural Moroccan beauty secret that answers your hair, body and skin needs. Make sure to add the Moroccan red clay to your shopping list once you are in Morocco for a complete satisfaction!
4. Rose Water : Facial Toner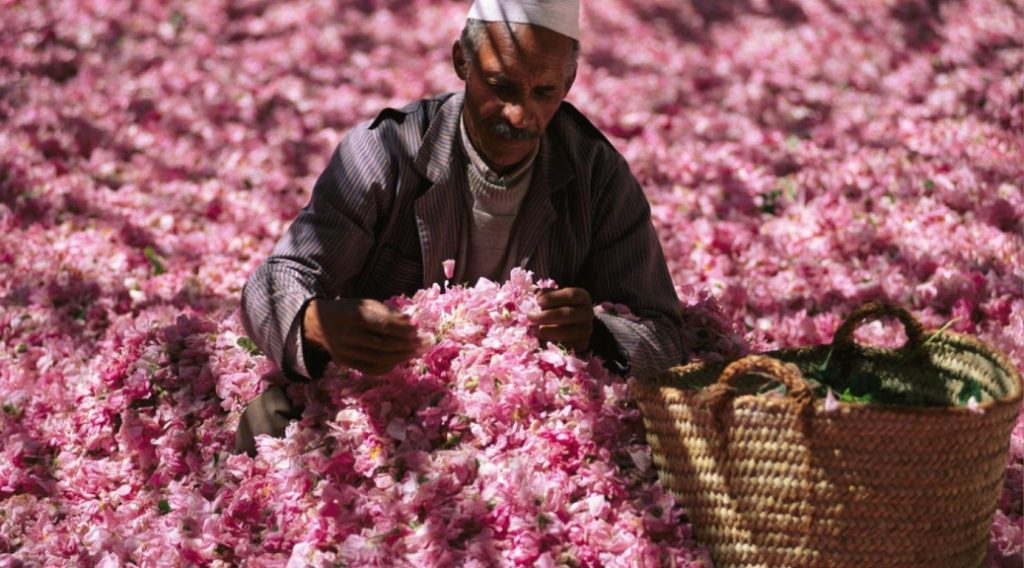 The Moroccan rose water is a must-have beauty product, made from the petals of the Rosa damascena plant, which is native to Morocco. It is the most used rose in the perfumery world thanks to its addictive and fragrant scent.
Whether you use it as a make-up remover, after-wash astringent after a long day or a calming toner after a good chemical peel session, Rose Water is the ultimate addition to your daily skincare routine. It serves as a multi-purpose natural toner that is suitable for all skin types, including sensitive and acne prone skin.
This Moroccan gem has various benefits for your skin, hair, and overall well-being. It is packed with antioxidants, which help to neutralize free radicals and protect your skin from damage.
For skin
Acts as a refreshing toner and natural astringent
Helps to absorb excess oil
Minimizes and tightens pores
Helps to reduce acne, redness, and irritation thanks to its antibacterial and anti-inflammatory properties
Helps to hydrate – soothe – calm and nourish sensitive skin
Helps to maintain the skin's pH balance

For hair
Acts as a natural conditioner: Detangles and softens hair; especially locks
Fun fact: Rose water can be found in most Moroccan households, not only for cosmetic purposes, but it is also a popular ingredient in cooking; it adds a distinctive flavor to traditional dishes.
5. Aker Fassi: Natural Berber lipstick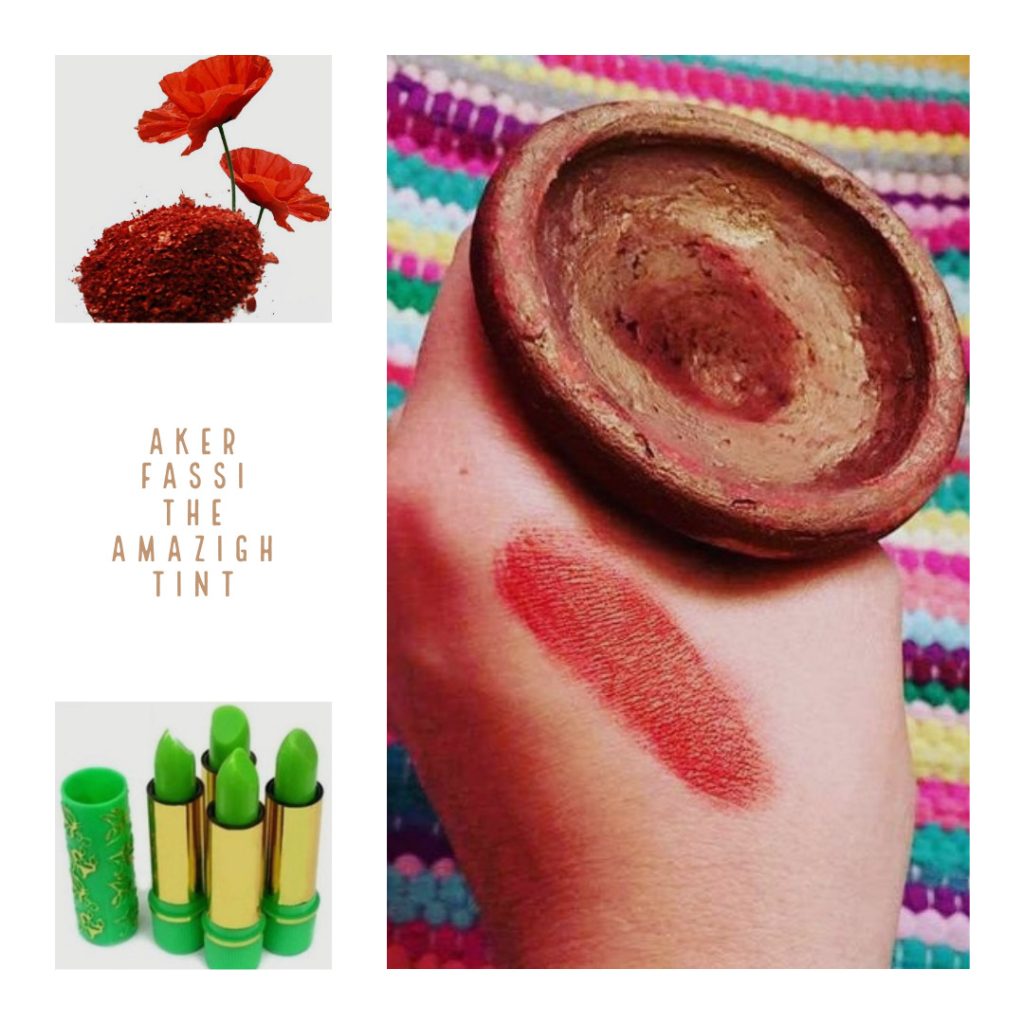 Another Moroccan beauty gem that has gained rapid popularity and gone viral on TikTok is the Aker Fassi lipstick. Native to Fez, It is a powder extracted from the dried poppy petals and dried grains of pomegranate; it is commonly sold in powder form or as a solid lipstick but lately, it has gotten super famous on the internet for the uniqueness of its Clay pot form.
As a powder, solid lipstick or in a lid, Aker Fassi is the perfect choice for a rich reddish stain that looks beautiful on both cheeks and lips; giving you natural blush and rosy moisturized lips.
How to use Aker Fassi?
To use Aker Fassi Clay Pot, you can soak your finger or a lip brush in water, rub it gently on the clay pot and then apply it on your lips. For more moisturized lips, use Argan oil instead of water, before or while applying Aker Fassi.
Aker Fassi powder is one of the natural Moroccan beauty secrets that can benefit both the skin and hair. Its antioxidant, soothing, and astringent properties make it a highly valued ingredient, providing impressive and instant results.
For a natural hair dye; mix one teaspoon of Aker Fassi powder and 100g of Henna to get a vibrant Gypsy Red color.
Added to the Rhassoul clay, the natural amazigh powder enhances skin's elasticity, cleanses and hydrates it.
Mixed with Rose Water, it softens the hair, strenghtens it and gives it a shinier look.
---
In short, by adding these Natural Moroccan beauty secrets to your skincare routine, you too can achieve a glowy and youthful appearance!
In fact, these beauty gems have not only been used by Moroccan women; but have also become the go-to for many women all over the world. They can be easily found online or while wandering the streets of Morocco! In the heart of the medinas of Marrakech, Casablanca, Fez.. Wherever you go, you will be warmly welcomed.
So why not join the growing organic trend and try out some of these well-kept beauty secrets, to let your natural beauty shine?