Searching for a luxury Moroccan hotel for your next stay in Marrakech ? a special occasion is coming up and you're looking for the best of the best ? Well, you've came to the right place
Here is a selection of the top 9 luxury stays in the beautiful exotic city of Marrakech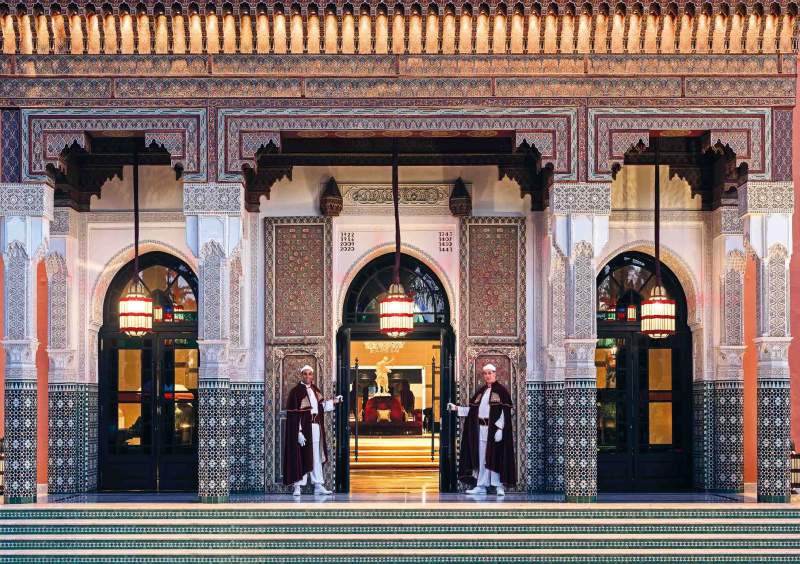 La Mamounia
Of course, this list wouldn't be this list if it didn't start with the one and only luxury Moroccan hotel La Mamounia. Did you know that Sir Winston Churchill, England's former prime minister, lived there? Yeah me neither, not before writing this article. Since its 1923 debut—everyone from Winston Churchill to Nelson Mandela to Tom Cruise have stayed here, what started as a Beautiful Gift of land from father the Alaouite Sultan Mohammed Ben Abdallah to his son is now and without a doubt The most famous hotel in town.
As described by La Mamounia website "Timeless and wildly modern, radiant and intimate, oriental and outward-looking, luxurious and authentic, mythical and vibrant: La Mamounia is everything, all at once." La Mamounia is on the edge of the medina, in the heart of Marrakech, 270 rooms and suites, three riads, overlaid with intricate tiling and vivid colors courtesy of top French designer Jacques Garcia. With gardens of 700 orange trees, 200 olive trees and 5,000 rose bushes that are almost as famous as the guests, without forgetting to mention the vast outdoor pool, it is one of the top places to be seen in the city
Royal Mansour Marrakech
The Royal Mansour is definitely one of those few luxury Moroccan hotels that defy hotel excellencein the world. Some 1,500 Moroccan artisans were employed to build this palace hotel commissioned by the King of Morocco Mohammed VI, who wanted it to be 'a medina within a medina'. Just a few steps away from the famous Jemaa El Fna square beats the heart of the Marrakesh Palace, laid out as a medina with 53 separate three-floor riads rather than normal hotel rooms. The spa is a focus, as are its three delight dining restaurants, including the Michelin-star Le Jardin.
The Royal Mansour truly has a touch of oriental magic to it that you will not forget in a hurry, 2 km from Bahia Palace, a 5-minute walk from the famous Djemaa El Fna square and a 15-minute drive from Marrakech-Menara Airport is a 15-minute drive away.
Royal Mansour is one of the most uniquely beautiful hotels in the world.
The oberoi
This fairly new luxury Moroccan Hotel (opened October 2019) does not disappoint. The Oberoi Marrakechhas beautifully landscaped gardens punctuated by water features. Its authentic architecture is inspired by palaces of ancient Morocco. The courtyard of the main building assimilates the design built in the 14th century of the historic Medersa Ben Youssef, one of Marrakech's most iconic historic monuments.
Set in Marrakech, 12 km from Yves Saint Laurent Museum, 13 km from Majorelle Gardens and 14 km from theBahia Palace, The Oberoi Marrakech offers a restaurant, a bar, a fitness center, a magnificent garden and outdoor and indoor pools.
Each of this luxury Moroccan hotel's accommodation at the 5-star hotel has garden views and majestic snow-capped Atlas Mountains.
Spacious accommodation, personalized wellness offerings, restaurants serving authentic Moroccan cuisine and international cuisines and an engaging children's activity area make for a promise for an unforgettable experience at one of the best luxury moroccan hotels in Marrakech.
Mandarin Oriental, Marrakech
A little bit of city and a little bit of Mountains we ask? Yes!, you say.. Well we present to you: Mandarin Oriental, one of the best five-star hotels in Marrakech, This Morocco's luxury hotel is Within easy reach of the world-famous Medina and its main attractions and in laying close proximity to the Atlas Mountains, while at the same time being only 15 minutes drive from the airport, the Mandarin is perfectly situated to enjoy both the delights of the city and the relaxing beauty of The Atlas mountains.
The hotel is composed of 54 luxurious villas with their own private gardens and private pools, 9 delightful suites, a gorgous 19,375-square-foot spa gives off the same vibes with private gardens surrounding each of the six treatment rooms, an outdoor swimming pool surrounded by towering palm trees and their signature restaurants offering an array of options: Moroccan with a modern slant, international, Chinese, and Mediterranean al fresco by the pool.
This luxury Moroccan hotel is near the Royal Golf course and only about 10 minutes drive from the medina of Marrakech.
Fairmont Royal Palm Marrakech
This luxury Moroccan hotel is undeniably the promise of a fantastic getaway. With 134 guest rooms, suites & villas overlooking landscaped gardens, the Atlas Mountains and the 18-hole Golf Course designed by Cabell B. Robinson, offering for a postcard backdrop.
The luxury Moroccan hotel of Royal Palm features six restaurants and bars, a huge lake-like swimming pool, an incredible spa, a fitness club and an enchanting 500 sqm Kids' Club, considered the largest in Morocco. you won't ever need to leave the hotel!
Fairmont Royal Palm Marrakech is located 12 km (about a 20 minutes drive) from the Medina, 13 km from Conference Palace and 15 km from Majorelle Gardens. and 10 km away from the Menara Airport.
Selman Marrakech
After designer Jacques Garcia redesigned La Mamounia, he designed Selman and seemingly took the style quotient up a notch, heaping on intense colors, sharp furniture, opulent chandeliers and towering columns, an Arabian decor fit for royalty. It's s a short drive from Marrakech, However, that distance comes with something that many other properties lack: a stable (also designed by Jacques Garcia) housing purebreds Arabian horses, symbols of the greatness of a civilisation, guests can visit and admire these extraordinary horses, watch them perform or take a dressage lesson and indulge in its unique culture and the soul of the exceptional Selman Marrakech.
Situated at the foot of the Atlas Mountains , this luxury Moroccan hotel features three outdoor swimming pools, a luxurious spa, two bars and three restaurants The Le Selman, the La Pavilion and Assys, From exquisite cuisine to Mediterranean to authentic Moroccan style, there's something for everyone.. Its spacious rooms are tastefully decorated with Arab-Andalusian style. Each includes a private bathroom fitted with a hot tub and shower and provides a large terrace with sweeping views of the swimming pools, perfect for enjoying a delightful cup of moroccan mint tea.
And Marrakech-Menara Airport is 5 km away.
La Sultana Marrakech
"A romantic hideaway within the walled medina of Marrakech" La Sultana truly takes the cake for city Luxury hostels. At the beating heart of the kasbah, just moments from the royal palaces, museums and souks of the magical red city.
This small, luxury Moroccan hotel offers a luxury outdoor swimming pool and a spa with massages are offered at La Sultana Marrakech. It also features a rooftop terrace, But what takes the cake is without a doubt their incredible spa, there's a Jacuzzi, two hammams and sauna here too – not to mention candlelit pools.
Moorish décor and Moroccan furnishings feature in all of its rooms and suites, La Sultana's exotic ambiance carries through its high vaulted ceiling bedrooms, intricately carved woods, marble and copper echo the hotel's rich heritage.
The 28-room luxury moroccan hotel also has a high-quality restaurant; a more casual café serving a market and street-food menu on the rooftop with views of the landmark tower of Koutoubia Mosque.
La Sutana is definitely perfect for your next stay in the heart of the red city, it offers the perfect amount of relaxation and nearability.
Palais Ronsard Relais & Châteaux
As one of Marrakch's Moroccan luxury hotels, Palais Ronsard Relais & Chateaux takes the cake with all-around excellence. Surrounded by rose-scented gardens with century-old olive trees, Palais Ronsard occupies an elaborately adorned 1930s mansion, with interior design by architect Gil Dez.
Made of 29 spacious rooms and suites with their terraces, gardens are each of multiple inspirations where the East is always present. A restaurant duo that alone is worth a stay – one is a fully gourmet affair and the other is an eco-friendly alfresco spot with ingredients sourced from the hotel's beautifully manicured gardens.
There's also a pool, a large outdoor swimming pool (you'll have your own, too, if you book a Pavilion) and a decadent spa with classic hammam treatments. Too relaxing for you? The hustle and bustle of the Marrakech medina is a short spin away.
Truly one of the most well designed, stylish, unique and authentic luxury hotels in Marrakech,where novelty and nostalgia come together, sometimes meeting sublime frescoes by artists from all walks of life.
Amanjena
Inspired by the rose-hued buildings that the red city of Marrakech is known for, Amanjena is made from the same clay visible in many other structures throughout the town, set in its own expanse of gardens and grand open spaces. If to feel far away from the city (It's a 15-minute drive to the medina.) or to relish the solitude is your thing, Amanjena is your answer one can even say "it's in the middle of nowhere".
Shaded courtyards with fountains lead to the central basin, a stylized interpretation of a traditional Moroccan palace with long passageways, marble fountains, a large stone courtyard and walled villas laid out the same way that sultans designed their palaces, all with private gardens and many with private pools. Views stretch across the olive groves and palms of the oasis, extending to the High Atlas Mountains on the horizon. The spa has two hammams and the Amelkis Golf Club next door.
A calm luxury stay done right