What is a Riad in Morocco? Where will I stay? This is the first question that occurs to you when you think of visiting Morocco and living the genuine way of life there. Don't think a lot and come to a "riad". But what is a Riad?
It is actually a classical, folkloric lodging house which is designed around the main courtyard with a garden that is ornamented with various kinds of plants and a fountain. As for the origin of the word "Riad", it has Arabic origins and equals garden in English.
What is a Riad in Morocco?
In general, Riads were old dwellings or palaces that were renewed to be transformed into a Riad. Of course with retaining their historical ornamentations and structures.
As for the view of the riad, it looks over a garden with its terraces, patios and gardens. In Fes or Marrakech and other cities of Morocco, you can find both small riads with just four to six rooms as well as giant ones with a penthouse terrace and many rooms. So if you desire to experience the real Moroccan lifestyle, just come and visit a riad in which you will marvel at both the conventional ornamentations and other folkloric services that are offered there.
The Design of a Riad
As for the architecture of a Riad, it is designed to have a ground floor with two to three rooms that lead to a garden. As for the shape of these rooms, they are mainly narrow and lengthy with draperies and doors. Some rooms don't have any walls, but just a wide region to stay in and rest.
Such decorated rooms can be found also in the upper levels of the riad with their magnificent draperies, doors and sometimes inner windows which are also ornamented with metal industry and curtains.
For a lover of privacy and spaciousness, the riad is your best choice since it has inner balconies and a very high ceiling that gives this feeling of magnitude and largeness.
When you come to enter a riad, you will be wowed by the huge size of the main door which can have both heavy decorations or just simple ones. But in both designs, it has a conventional sense. Before you walk through this door, you will come across beautiful art designs, plastering decorations and sheets on the walls of a long corridor that will lead to the main yard or garden.
Concerning the windows, as we have mentioned, they exist only in the upper level of a riad not on the ground level and they are very small and high.
Open-Top Riads
If you wish to stay in an open place and enjoy the fresh air, sunlight and rain, then come and visit the riad. It is where you can enjoy nature as there are high trees from the ground up to the roof adding beauty to the beautiful scenery. So you can just sit and relax with the singing of birds. Don't worry about staying in such open area because of the high walls that give a sense of security to the visitors.
Bathrooms and kitchen
Being concealed in a hidden place from the major corridor and the main courtyard, bathrooms and kitchen are situated on the lower level. As for the design of the bathrooms, they have squat-style seat.
You can find the basins either in or out of the bathroom. In the past, people had to bath in a regional hammam. A thing that they dispose of nowadays since they have a shower in their riad.
In order to get rid of the heat that emanates from the cooking in the kitchen, they put chimneys in every kitchen so that it doesn't affect the whole house.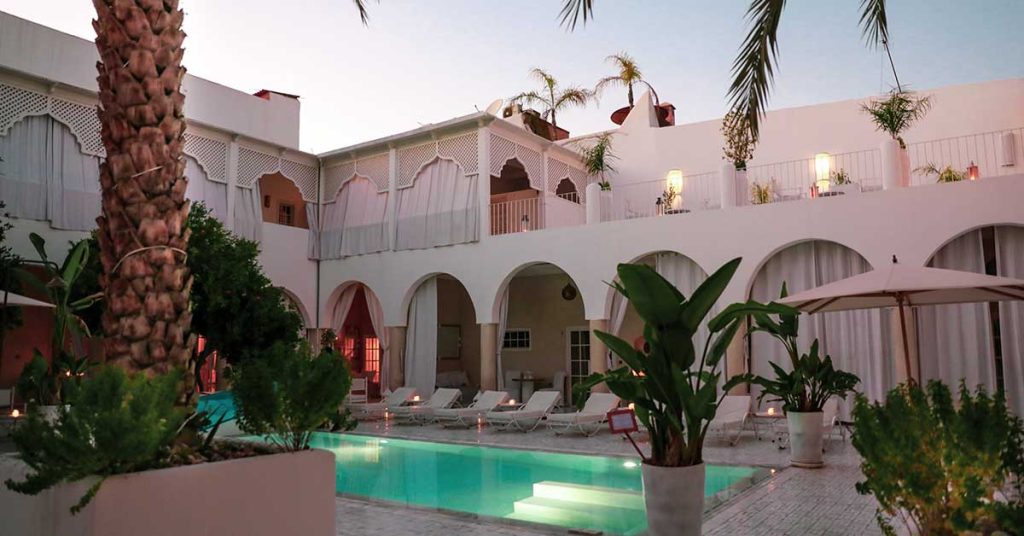 Where can you find a riad in Morocco?
Riads exist all around Morocco, but the most genuine ones can be found in the old Medina of Fes or Marrakech where you have to walk only for 10 minutes to find the most desired riads.
Once you arrive at a riad, you can't know whether you are standing in front of or behind it since it doesn't have any direction or a sign that might lead you to it.
For a lover of cosy and personal places, the riad is your best choice. It exists in a simple sight hidden there away from the hustle-bustle of the city. It is true that it has a simple decoration from the outside without any exaggerated ornamentations, but it hides a completely different world inside.
In order to get there, you are advised to arrange a place where you can come and be taken by the staff of the riad so that you will not get lost there as it is situated in an isolated district away and you have to walk through a very narrow path to get there.
Some people like adventures so they plan to go there on their own so that you may get lost trying to do so. But if you take such a risky choice, just make sure to have a map or to take a Local Guide to guide you.
Don't worry if you don't make a previous reservation, because once you get to Morocco, you can find a lot of choices there and with the help of people there, you can choose a perfect place.
What about the Rooms in Riad?
The sizing of riads' building plays a very important role in the number of rooms you will find in the riad. The number of rooms differ according to the size of a riad whether it is small riad or a big one.
Small riads have only three to four rooms and big ones have ten rooms maximum. What matters is the peculiarity of rooms not the number of them. The charming way that the rooms decorated makes it difficult to decide which one is the best.
You can feel a traditional touch in the design, structure of the rooms. Such style is what determines the price of the room which could be cheap or expensive. At the same time, you can find options of rooms that are both beautifully decorated and budget-friendly.
Are you a lover of calm places? Then you are advised to take a room on the upper level of a riad. It is where you can find not only quiet place but also a private one. Since they have a semi-personal balconies that looks over the exterior of the riad.
As for the decorations you can find there, the floors of the rooms are all decorated with tiles instead of carpets just as the bathrooms, which are also decorated with bright and genuine sheets. Other items that can be found in decorations are colored fiber, engraved statuettes, dangling lamps, hand-made carpets.
There is just a modern touch with some new riads such as WIFI service with no access to television because such modern technology will make you forget the whole reason of visiting riad which is to know about the history of the city.
Drinking and Eating in a Riad?
There's no one who doesn't like to enjoy and taste cooking when visiting a certain place especially Moroccan local cooking. Morocco is well-known for its legacy in cooking. So come and taste the most delicious dishes in your life.
Here you will be delivered only genuine food with high quality. A team of local chefs will provide you with the most tasty and traditional dishes making your visit to Morocco a reminiscent for you in all your life.
The simplicity of the dishes in breakfast doesn't make it bad but they are very tasty options including bread, fruits, mint tea, honey, bakeries and juice. As for dinner, they are cooked on your command from fresh components that are bought on the same day.
If you have your own choice of food, just tell the staff and let them know. But whatever your choice is, you will get stuck at the taste of the dishes delivered to you by the chef.
As for alcoholic drinks, you have to ask the staff about them since it is a Muslim country with different traditions that you have to respect. Your whole experience will not be complete without tasting Moroccan food whether you are a foodie person or not. In case you don't know the ingredients of your meal, just ask the staff and they will answer you.
The Service in a Riad
One word can describe the service in riad which is "exceptional" in all its aspects starting from being private and personal not ending with being cozy and comfortable. It is worthy mentioned that riads are possessed by individuals who are different from their managers who run the riads.
Having few number of rooms away from the noise and the crowd makes riad an extraordinary place to stay in. You will feel as if you were in your home being treated like a member of family by all stuff or just like a prince or a princess in a palace in such a luxurious place.
Nothing more we can tell you about the politeness of the members of staff as well as the manager. The members of staff aren't just remarkably qualified but also they are courteous and polite as you will not have any protest against their behaviour.
Their main intention is to make you feel you are in your home asserting that you have the best and most comfortable adventure. An adventure that you will recall for all your life. The manager is as courteous as the staff members and he will be there beside you caring for all your complaints without any annoyance. With all these attractions, we come to know that riads have exceptional standards of quality.
Why should I choose a Riad to stay in?
Don't hesitate to stay in a riad because of its high costs and choose a cheaper hotel since you will not have the same kind of experience because the two differ from each other completely.
If you like to feel that you are a king in a palace then go to a riad, not to a hotel. Their exceptional services will make you feel as if you were in a palace. So prepare yourself and bring a good amount of money in order to reserve a riad.
Do you like to live the experience of being in a fairytale with an open sky, singing of birds and the beautiful sound of the water of the fountain? Then what are you waiting for? Come and stay in a riad. It will be a reminiscent experience that deserves the money you will spend on.
Looking for a peaceful place away from the noise, then come here to Moroccan riads. The decoration is another attraction there. It is out of the ordinary starting from hand-carved doors to works of art on the walls and floors.
Another attraction, which is an addition to your reasons of why should you stay in a riad, is that you will be able to enjoy tasty and delicious dishes in two ways: either by tasting the cooking of chefs in-house or just ordering food from the outside. In both cases, you are the winner and you will get the best taste.
Think of these factors when deciding to stay in a riad
There is only one thing that is considered an obstacle when you consider staying in a riad which is that there are a lot of them only in Fes. This is what makes choosing one a difficult task somehow.
Don't panic at the possibilities of choosing unsuitable, improper riad, we are here to help you. We will give you four factors think of when you decide to stay in a riad.
1- The Location
The first and most important thing you have to consider when choosing a riad is its location, whether it is located in a suitable position near the places you desire to visit or not.
What makes the location an important factor is that most riads are situated in the old medina giving them such ancient nature. Before looking for a riad near the places you want to visit, you have to check if you can get there by taxi or what is the nearest place the taxi can get you near the riad.
This problem can be solved if you choose a riad inside the medina so that you can reach markets easily. But one problem occurs which is that you have to walk through many streets and that means the possibility of getting lost if you don't know the streets of the medina.
To solve such problem and to avoid getting lost, you can ask the riad staff about such amenity, if they provide any services of transportation, so that they can take you from the airport or simply you can yourself arrange a meeting point at which the staff members come and take you.
2- The Services
Another factor to check is the service that is provided by riad. There are two types of services: basic services that are offered by both hotels and riads such as towels, personal bathrooms and bedding in addition in-house breakfast provided in the room.
Additional and extra services are also offered and they include a pool, a restaurant, air-conditioning, terrace and hammam. Some riads offer more extra amenities such as a yoga studio, a bar in order to drink alcoholic drinks and much more amenities.
3- The Size
Both big and small riads exist. You can find riads with rooms starting from six to a dozen. Choosing a big or small riad depends on your personality and the type of adventure you want to go through.
If you are a quiet person who likes calm places and quiet experiences then small riads are suitable for you but if you are a sociable person who likes to make relations with other people and meet new people then big riads are your choice. So that you can make new friends as much as you want every day.
4- The Design
This is an individualist factor which depends on whether you like traditional designs or not. In both cases, having attractive awesome designs will add a lot to your visit to the riad especially if you were a social media person who likes to post your photos on social media. When your friends see such extraordinary designs, they will get stuck in the beauty of the photos and designs, especially artwork. Whether or not you are a social media person, you will admire traditional designs.