A remodelling of a jewel that had once gone unrecognized in the course of time, Palais Amani is now regarded as one of the most opulent and beguiling riads in Morocco. Located in the heart of one of the largest car-free urban areas in the world, this beacon of Morocco's traditional architecture is your perfect romantic getaway from the occasionally, but not so rarely, anxiety inducing life.
A Stroll Down Memory Lane with Palais Amani
Left abandoned for over a quarter of a century, this beautiful 17th century monument was in a sad state of disrepair and years of negligence and decay. When Jemima Mann-Baha and Abdel Ali Baha, current owners of Palais Amani, laid their eyes on the property, they were totally captivated by the palace's disjoint memories and warm heritage. A heritage that has long stood there longing for a moment of recognition.
There is this great line by the Japanese writer Haruki Murakami that says,
Most things are forgotten over time… But still, no matter how much time passes, no matter what takes place in the interim, there are some things we can never assign to oblivion, memories can never rub away.
Admittedly, Abdel Ali Baha, born in Fez and raised in France, could never erase the part of himself that once wandered around this medieval creation of a city, breathed its air and inhaled its early mornings' dew. Growing up reminded of the ample history of his home, the feeling of settling abroad stood no chance against the yearning desire to build a life once again in the place where he was born.
The couple, who had been originally residing in London, finally made the decision to come back home and start a never-done-before hotel business. Fuelled by this desire to open a hotel not only famous for its originality but also the authentic, and somewhat aristocratic, local experience it provides its clienteles, the moment they came across Palais Amani they recognized it to be the perfect place to attract their dream vision into life.
This whimsical riad that had been previously owned by a Moroccan merchant family is now in the caring hands of Jemima Mann-Baha and Abdel Ali Baha. With the start of restorations in 2009, the current standing Palais Amani is the result of four years of endeavour, massive renovations and remodelling.
Arriving at Palais Amani
At a distance of 20km away from the airport, your cab ride should take about 40 minutes until you arrive at the worn walls median, or what is locally known as Fes el Bali (the old city). To reach Palais Amani after a long travel, the 40 minutes ride should not be as odious as it sounds. You will most likely be fascinated by the sight of this historical monument as from the moment you step foot in Fez you are in the oldest of Morocco's imperial cities.
Declared a UNESCO World Heritage, Fez is the cultural and spiritual capital of Morocco. Unlike the red city Marrakech, it is much laid-back with an accented heritage unlike any other. Fez was founded in the 9th century and is now home to the world's oldest university, Al Quaraouiyine (895CE), as well as a selection of scholars and philosophers from all around the globe. Palais Amani, with all its charms and brilliant architecture, lies in the heart Fez, one of the most perfectly preserved medieval cities in the world.
The exceptional scale of the old medina cannot be fathomed and even the skilled of them all might get lost in such maze of architecture once in a while. With more than 9000 streets and alleys, it is only natural for a foreign traveller to lose one's way. Like so, Palais Amani is tightly wrapped within a maze of narrow streets, beautifully embellished mosques, innumerable stalls, ancient madrasas and a long layout of private riads. The moment your taxi drops you outside the walls of the car-free medina, you would want to expect your porter waiting for you to cruise you around the hidden alleys and guide you to your hotel.
Massive walls swallowing you from every corner, hardly noticeable windows, tiny entrances and streets almost melting together, all of the latter might trigger your claustrophobia. Preserving the concept of modesty and privacy within Muslim communities, most of the riads within the old medina have subdued entrances and concealed lives within large walls almost appearing as monoliths. Palais Amani is no privy to this concept but do not raise a red flag when arrive at its entrance. You will be struck by the strong citrus smell permeating the air as you pave your way inside a 600sq meters garden.
Palais Amani: Elevate your Experience with these Facilities
Prepare yourself for a magnificent experience the moment you arrive at Palais Amani. The splendour riad comes equipped with more than the luxurious twenty-one rooms it provides. Rather, you have access to multiple facilities ranging from the remarkable rooftop restaurant, the candlelit hammams, the two licenced bars and the beautiful citrusy garden:
Rooftop Restaurant
Sitting on the terrace under the cool breeze of spring nights watching the electric signs come as it gets dark should fill you with warmth and longing for a life you have only booked little time in. Palais Amani's terrace gives you a full 360° view of the old medina contrasted by the gigantic bluish mountain in the distance making the view remarkably outstanding.
Apart from the view, you will have yourself immersed within an authentic Moroccan design and architecture laying on sofas of embroidered fabric and covered in the scents of herbs, palms and bougainvillea. In addition to the fully customized Moroccan experience, make sure to check their three-course menu loaded with delicious traditional Moroccan food. Their chicken and turmeric tagine is among their best selling, but if you happen to be vegan or vegetarian the choices are abundant.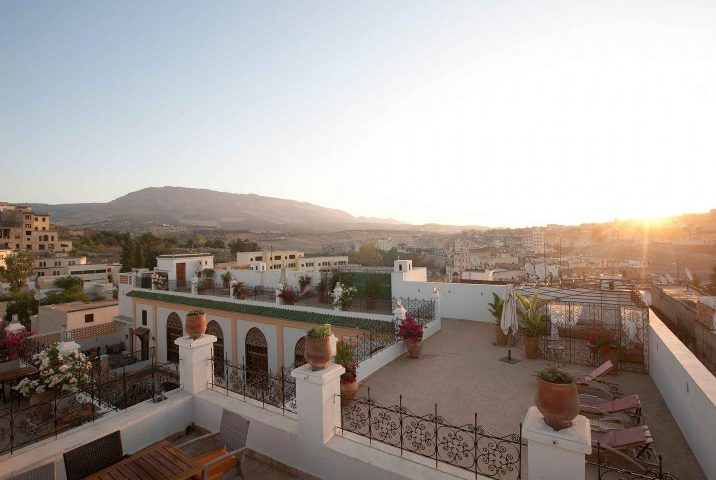 Hammams
A candlelit staircase leading you to the basement spa, every corner in Plain Amani is a sight for sore eyes. On your way, you will be mesmerized by the blue and white mosaic tiling, the beautiful carved cedar wood accessorizing the windows and the giant doors, and mostly the fictional, almost Alice in Wonderland, high ceilinged walls. Moroccan traditional hammams have grown to be famous around the world as the best spa treatment to pamper yourself. Held in spacious bathing rooms, Moroccan hammams are usually the place to connect more with your friends, unwind and make new connections.
In Palais Amani, you get to experience the authentic luxurious spa-hammam treatment with an assistance throughout the bathing process. Have you ever lived through the feeling of a new-born or, if not, a phoenix rising from the ashes? It may sound like an over-statement but I highly doubt the professional massages, the mud baths and oils and the numerous amenities you will receive on the way to not fascinate you. After your spa treatment, you are invited to a refreshing traditional cup of tea for a breather to immerse yourself even more in the heritage of Morocco.
Two Licenced Bars
Morocco is known for the high quality red-grape wine it produces. Part of your excellent experience at Palais Amani must include a wine tasting dinner. Ranging from high quality Carignan, Alicante, Syrah, Tempranillo, Grenache and Cinsaut to a nice glass of Mojito, as if brought to you from the depth of Cuba, a wine specialist will walk you through the complexities of each wine being tasted and your experience of wine tasting will be elevated through the roof.
The Garden
At the heart of the palace, there lies a calming 600sq meters lantern lit garden of citrus, olive trees and a variety of aromatic plants. Mornings for Palais Amani's clienteles start with the garden light diffusing through the Iraqi stained glass windows and the sound of the chirruping of birds drinking from the mosaic fountain.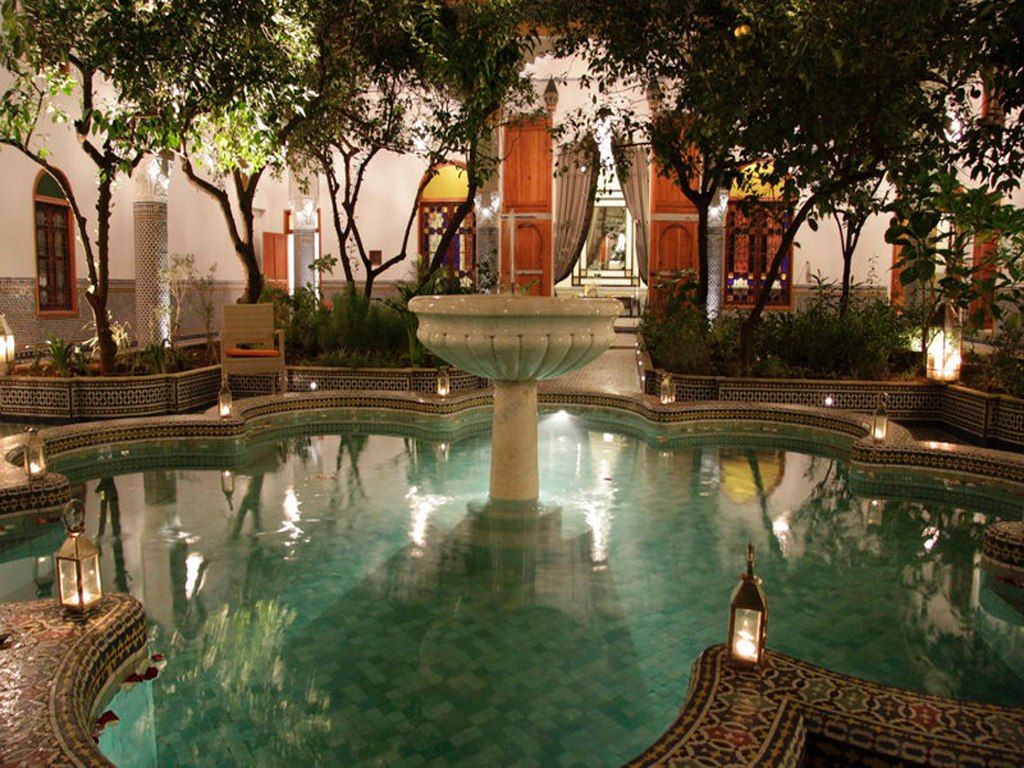 Palais Amani: Feed your Curiosity with these Activities
Even though Palais Amani lies near many souks, tanneries, madrasas and museums, Jemima Mann-Baha and Abdel Ali Baha are well aware of the time constraints most visitors are confronted with. Therefore, they sought to provide their clienteles with more local and authentic experiences taking into consideration their comfort, safety and the duration of their stay.
Fez Cooking School
Palais Amani is home to one of the best cooking workshops in Fez, Fez Cooking School. During your stay, take a half-day trip to the old medina's souks with Palais Amani's head-chef and learn more about the fascinating Fez. After shopping in local food markets, your cookery class begins once you are back at the hotel where you can create and taste some of the best Moroccan delicacies. Your experience shall round off eventually with lunch or dinner in the lantern lit gardens where you can enjoy your own creations.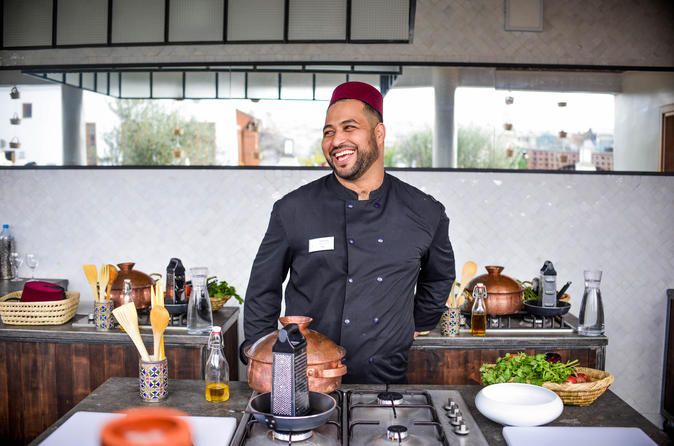 Medina Tours
Fes el Bali or the old medina holds a historical significance unlike any other city in Morocco. Built in 808CE under the rule of Idriss II, it was a regarded as a cross-cultural point to philosophers and scholars from all around the world. Its educational heritage is still celebrated to this day as Fez remains home to some of the oldest and ancient schools in the world, notably Al-Attarine Madrasa and Bou Inania Madrassa, in addition to being the motherland of the world's first university, Al-Quarawiyyine (founded in 895 CE by Fatima al-Fihri).
Cruise around the narrow alleys of the walls-warn Fes el Bali with Palais Amani's organized medina tours. The medieval roots of Fes will keep you in awe of how far this world has developed. In Boujloud, you can still witness bare-chested men treating animal hides in a colourful array of huge vats. You can enter religious places such as Madersa Bouanania Mosque and marvel around the Moroccan architecture with all its intricacies and dazzling details. Go to al-Mellah and you will be transported to an entirely different layout of the old medina where buildings no longer feel suffocating and the windows and balconies are large enough to peak a look inside.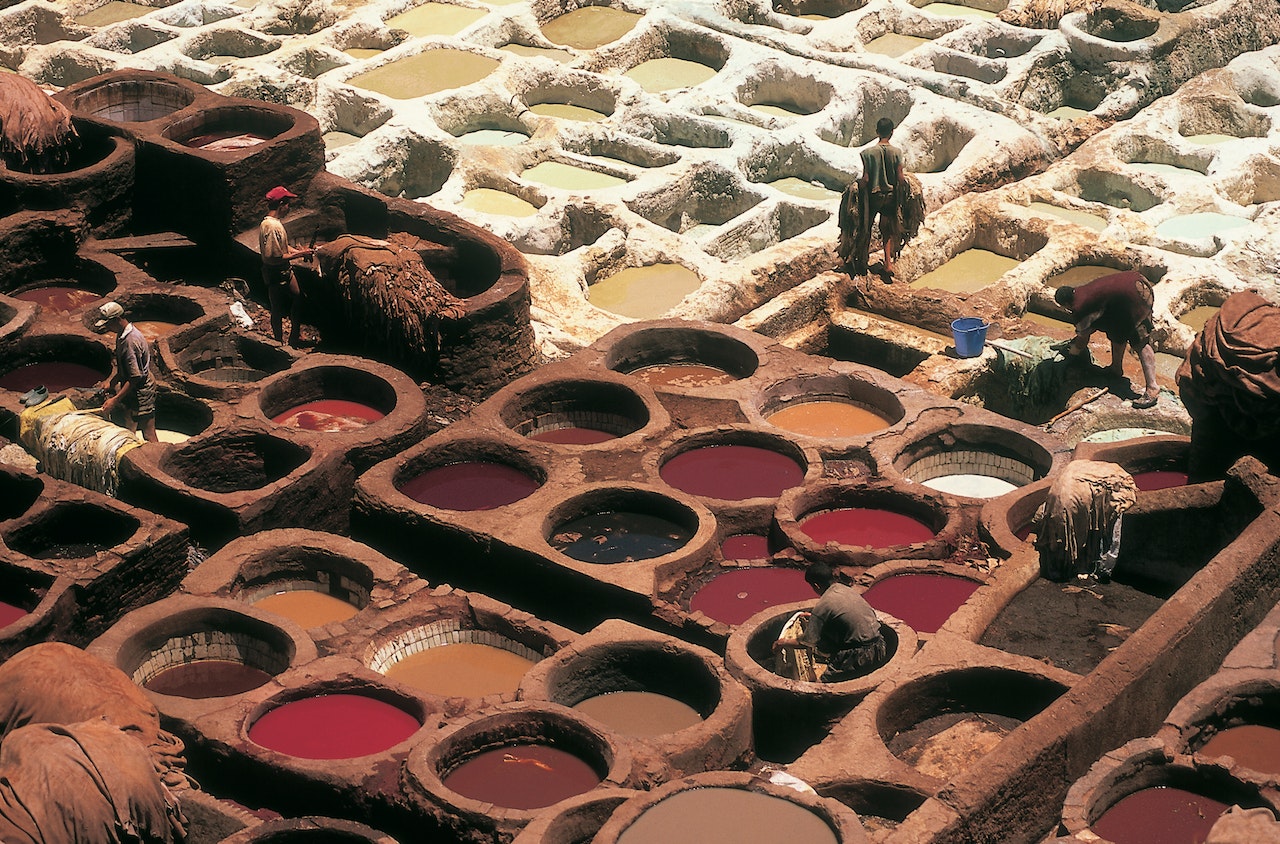 Calligraphy Courses
Maghreb Kufic scripts are some of the oldest art forms in Morocco, and likely in the world, that are still celebrated to this day. Almoravid Kufic, Marinid Kufic and Alawite Kufic scripts are few examples of the varieties of written scripts that are still practiced in Morocco. With the luxurious riad of Palais Amani, you can book a two hour personalised workshop dedicated to Arabic calligraphy with some of the most renowned calligraphers in Fez.
Read also: Fez International Festival of the Arabic Calligraphy Art and Ornamentation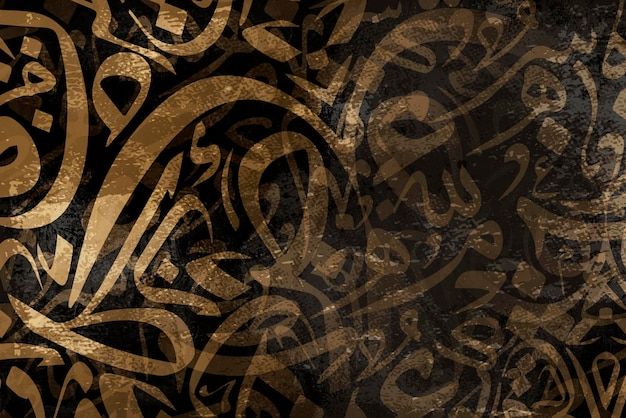 Which Room are you Booking for your Next Stay at Palais Amani?
Palais Amani is a twenty-one rooms and suites hotel. In keeping with the Moroccan inward-focused architecture of riads, rooms and suites are organized around the before mentioned 600sq meters garden. The garden allows for a natural lighting and airflow into the surrounding rooms where each space is richly decorated with authentic and local traditional Moroccan furnishings and architecture. When booking for your next stay at Palais Amani, the choices are abundant ranging from classic rooms to whole Misriah Apartments.
Rooms
In the standard category, we have classic rooms and luxury rooms. Each room at Palais Amani comes equipped with the same amenities as the other, the only difference between the two lies in size. Classic rooms at Palais Amani are not any less charming than the rest of the hotel. Each room is equipped with a queen-size bed, eloquent furnisher and a traditional Moroccan design with a European twist to meet every taste. Luxury rooms at Palais Amani, on the other hand, have doors opening directly into the garden allowing guests to enjoy the citrusy smell and the permanent residents of the hotel: the birds.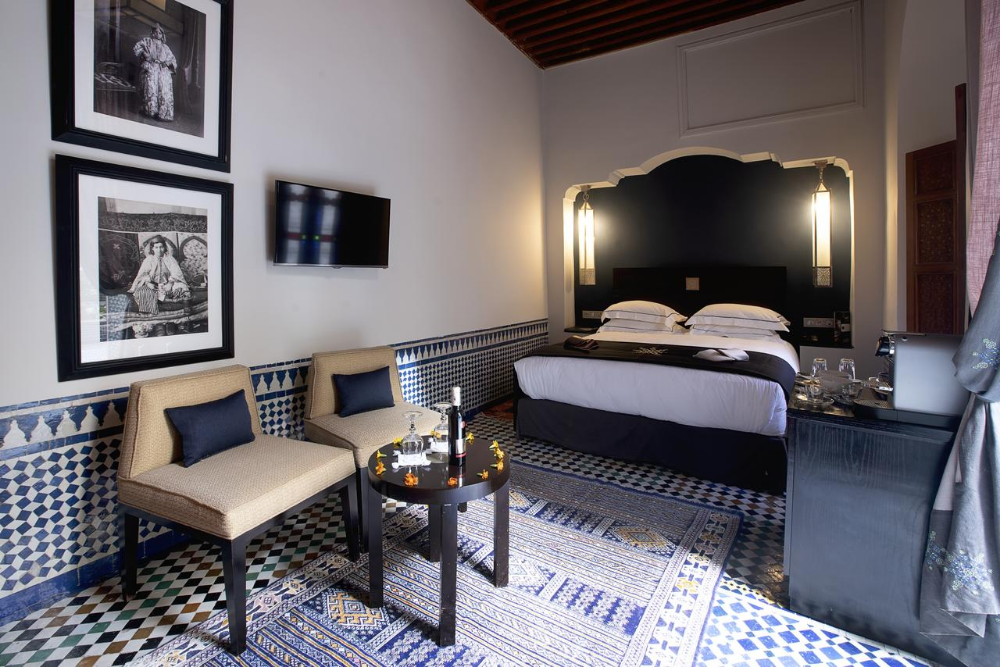 Suites
Typically larger than the previously mentioned rooms, suites at Palais Amani range from Junior Suites, Senior Suites to the Grand Suite. Junior suites are equipped with a master bedroom, a sitting area or a salon and a bathroom with both a showerhead and bath tub. Junior suites are roomy and airy allowing for up to three people to sleep in. Senior suites, in addition to the amenities of junior suites, encompass an additional room for extra comfort. Lastly, the grand suite is an outstanding 100sq meters south wing with an open view to the garden and a both his and her dressing room.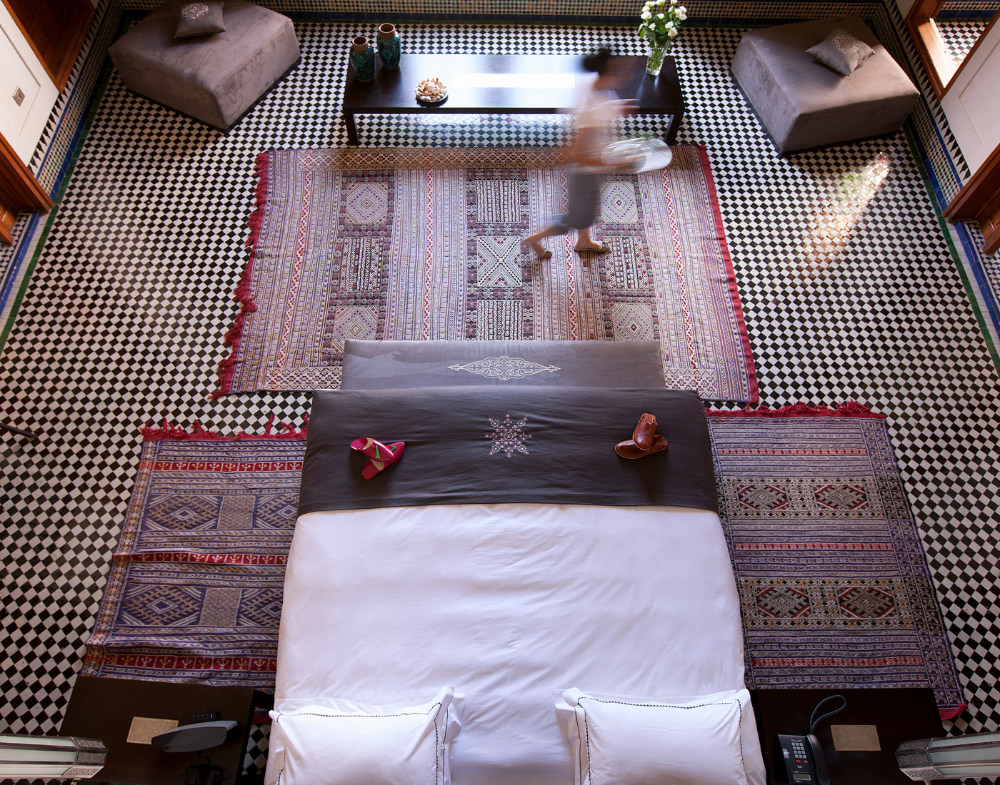 Misriah Apartments
At Palais Amani, Misriah Apartments are special accommodations for you and your family. They cover up to two floors and can be booked for up to four adults and two children under 12. Of 87sq meters surface, these apartments are the perfect booking choice to unwind and relax with your loved ones.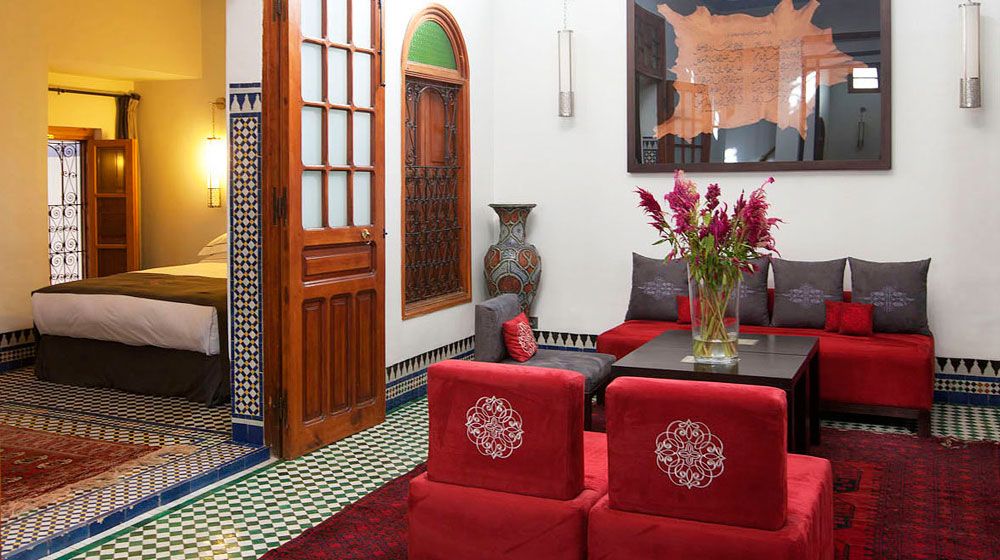 Make sure to inquire about the apartments with your booking agent. For more information about the hotel, check the official website of Palais Amani. And do not feel hesitant to know more about Fez, its best tour guides, cultural and religious diversity as well as a brief travel guide to all the nooks and crannies of this ancient city.