One can not just skip Marrakech when visiting Morocco! It is the tourists' first to-go city in the country. If the lively souks, lavish palaces, colorful gardens and the unique atmosphere keep on attracting visitors from all around the world, its traditional Hammams make their trip a pure moment of joy and relaxation. Whether you're traveling on a budget or looking for a more luxurious experience, Marrakech has something to offer you!
Were you looking to get pampered in the red city, but found the prices too high? Here are the top 5 Budget-friendly Hammams In Marrakech, you should consider visiting. But first, let's dive into the backstory of the Moroccan hammam and answer some frequently asked questions.
What is a Moroccan Hammam, and what should you know before visiting?
Inspired by Roman baths, a hammam is a traditional Moroccan bathhouse often composed of two to three connected steam rooms. It offers both relaxation and detoxification, through steam and skin exfoliation.
For Moroccans, visiting a hammam is a weekly routine, often done during the weekend. It is a deeply rooted cultural practice that represents a social and sometimes religious ritual in Morocco, where it is not only a place for cleansing but also for gathering and meeting. Women even tend to visit hammams in small groups to catch up with friends and family.
These bathhouses are an essential part of the Moroccan identity and can offer a unique relaxation experience for both locals and tourists. But while Moroccans find the experience relaxing, foreigners may find it traumatizing but still addictive!
To avoid culture shock, here's what you should know before visiting a hammam:
Nudity :
Nudity is the number one shock factor. In public hammams, most people are topless, and while most have chosen to cover their private parts, there is still a minority who decides not to. So be prepared to see some skin.
Temperature :
A hammam is typically a hot place. Unlike Turkish baths and saunas, Moroccan hammams are based on dry heat, where the humidity is 100% and the temperature is in the range of 30 to 55 degrees Celsius. It is still perfect for those who do not tolerate high temperatures.
Hammam Chambers :
Moroccan hammams often consist of two to three rooms: A warm room, a warmer one, and the hottest room. During your trip to the hammam, you will visit all three chambers, and the choice of room depends on the step you have reached.
Open-mindedness :
To fully enjoy your hammam experience, keep an open mind and respect those around you. It's common to see people washing each other, as it's a sign of love and friendship in Moroccan culture.
Hammam Attendants :
Public or private, all hammams have attendants to help visitors. While Moroccans are already used to the process and can be left alone, foreigners are always assisted.
In private hammams, visitors are treated like babies! From filling the buckets with water to washing your hair, the assistant will do everything to ensure you're satisfied and relaxed.
What to wear to a Hammam?
As awkward as it can be for first-timers, the clothing rules in hammams and Turkish spas are somewhat flexible.
You can choose to wear bikini bottoms, a bathing suit, underwear or a towel to cover yourself. In some private Hammams, you may even be provided with a pair of underwear to put on.
Get comfortable and choose what works best for you. Don't worry, you will not be judged, as people are accustomed to seeing topless and naked bodies in hammams.
What happens inside? What are the steps of a Moroccan Hammam session?
After you arrive at the hammam, your attendant will guide you to the changing room.
Once you get undressed, your assistant will take you to the steamy rooms where magic happens, following these steps:
Rinse with hot water
Apply black soap and relax in the hot room for 5-10 minutes to open pores
Rinse off the soap with hot water
Remove dead skin with an exfoliating mitt, called a "kessa glove"
Rinse again with hot water
Wash your hair
Rub argan oil on your skin to hydrate it
Enjoy tea time!
Important notes :
– In most private hammams, your treatment will include a massage. In fancier ones, it may also include a hair wash.
– The steps of a hammam session can differ from one facility to another, and from one hammam to another, as they are not standardized and vary based on the services offered.
Read also: Moroccan Beauty Secrets
What to bring to a Moroccan Hammam?
Moroccan Hammam Checklist:
Flip-flops or sandals
Bucket for the water
Towel
Exfoliating Glove – Kessa Mitt
Beldi Soap – Black soap
Rhassoul – Moroccan clay soap
Shampoo and conditionner
Shower gel or Soap bar
Swimsuit or underwear
Money for the tips and extra services
Clean clothes
Bottle of Water
Snacks
The difference between local " Public " Hammam and Private Hammam
Private Hammams are typically more expensive and luxurious, they are often located in hotels or spas, and marketed towards tourists. They may offer mixed schedules for couples and families and provide a higher level of privacy and diversity with extra services.
But, on the other hand, local public Hammams are more affordable and offer a traditional and authentic Moroccan experience. They are usually located in residential neighborhoods and frequented by locals, with separate schedules for men and women.
If you're looking for a special treatment, a private hammam may be the way to go. But if you're interested in the traditional Moroccan experience and connecting with locals, a public hammam may be the better choice for you. Take a look at our guide below, to the top 5 Budget-friendly Hammams in Marrakech to choose wisely.
Important note: In private Hammams, you will be spoiled like a baby and taken care of from head to toe. From the full-body scrub to the final massage, Hammams attendants do everything.
How much is a Moroccan Hammam?
In general, the entrance price varies depending on whether it is a private or a local hammam. For traditional local hammams, the entry price is a symbolic price of 10dh or 20dh ($1 – $2), which is ridiculously cheap. A tip of around 20dh-50dh is very much appreciated if you are interested in a body scrub from the hammam workers.
For upper-class Moroccans and tourists, there are private hammams and hotel spas, which usually charge for the same services between 150dh and 500dh ( 15$ – 50$ ), or even more if you want a luxurious and special treatment.
Our advices to make the most of your hammam experience
If you are a first-timer, a tourist hammam or a spa is what you should consider. As we said earlier, the experience might be a bit traumatic for newcomers as it can be overwhelming with all the nudity and intimacy.
Hammam workers will be at your service to help you through the process, to make it easier for you.
Bring a hair tie if you have long hair to keep it away from the face, and a clean change of underwear if you are willing to apply Henna.
Don't forget the checklist above, especially the water bottle and snacks, as you might get hungry or thirsty.
Once you get comfortable in a tourist hammam, make sure to visit a traditional one to live the real Hammam experience and immerse yourself in Moroccan culture.
Do not mind the few curious stares; you will get used to them!
Reminder: To respect Hammam culture and etiquette, it is preferable to avoid bringing valuables or jewellery to the bathhouse – and to refrain from taking pictures inside.
Read also: 10 Must-Visit Places in Marrakech
The best 5 Budget-friendly Hammams In Marrakech
1. Hammam Mouassine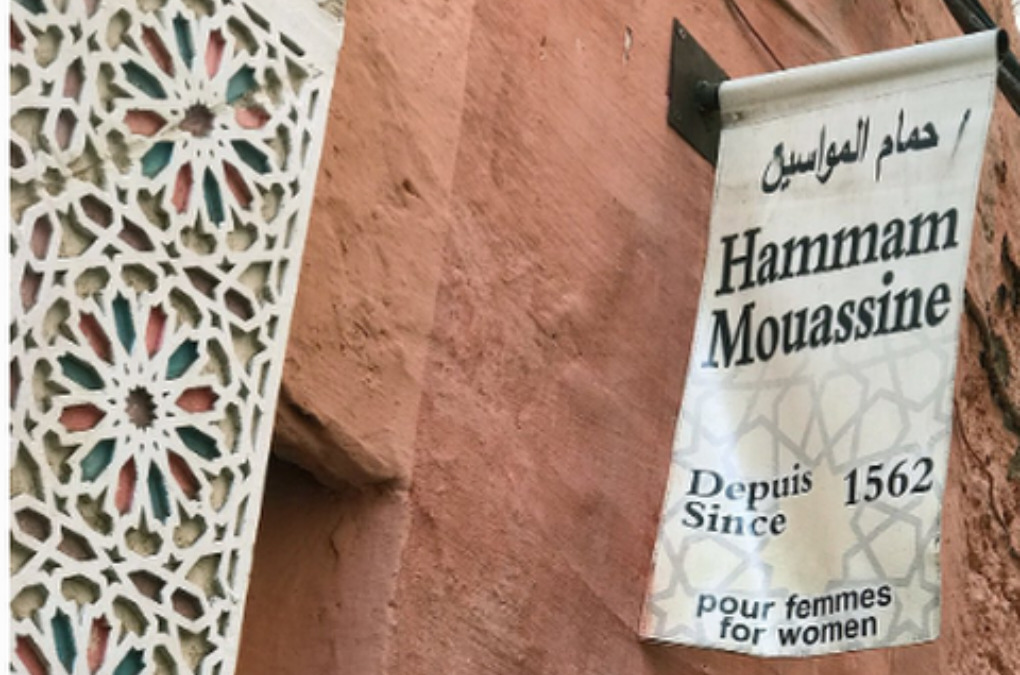 Looking for an authentic Moroccan hammam experience in Marrakech? Look no further than Hammam Mouassine!
Immersing yourself in local Moroccan culture with a visit to the oldest traditional hammam in Marrakech is an experience you must not miss, during your stay. A friendly staff is ready to welcome and take care of you!
Price: From 150dh/200dh – 15$/20$ per adult.
Address: Rue Sidi El Yamani, Marrakech 40000
Contact: +212 6 88 63 33 34
Website: https://hammammouassine.business.site/
2. The 1OO1 Nights Hammam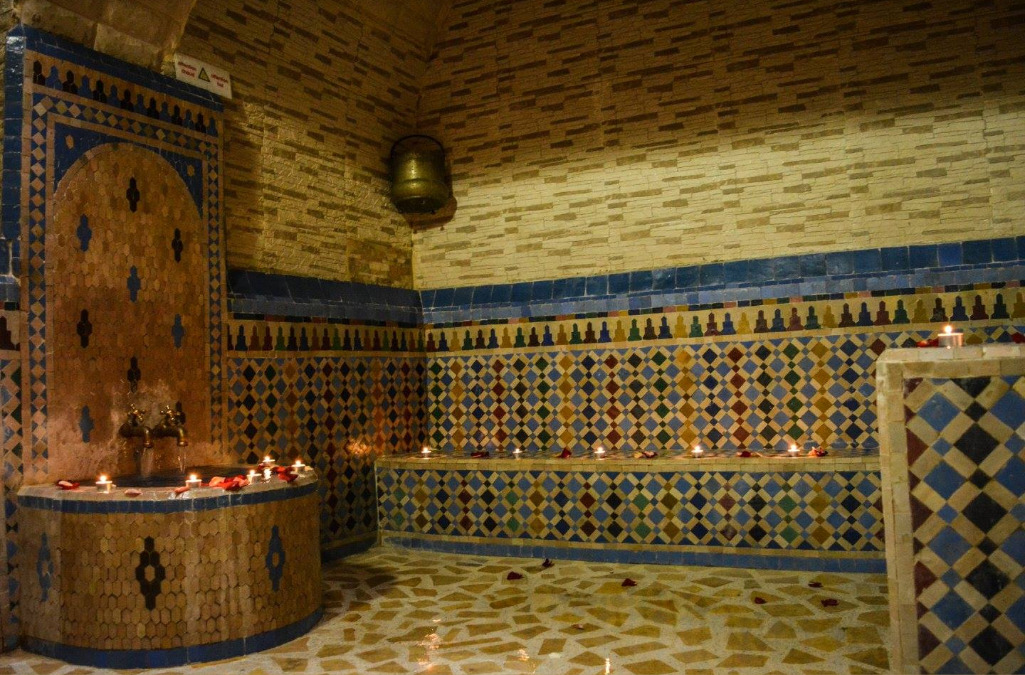 Located just a few steps from Jemaa el Fna square, the 1001 Nights Hammam Spa is a unique place with its architecture, charming decor, and services, that dates back to 1842.

With a professional staff and an excellent quality-price ratio, the Spa features a Hammam, jacuzzi, sauna, beauty center, hairdresser, massages, and more.
So, relax and enjoy the expertise of the spa professionals who will introduce you to exotic pleasures according to Moroccan tradition!
Price: Hammams start from 150dh – 15$, per adult.
Address: Place Jamma El Fna #58, Derb Dabachi, Marrakech
Contact: +212 6 66 88 26 04 / +212 5 24 44 30 79
Website: http://spa-hammam1001nuits.com/
3. Hammam Lalla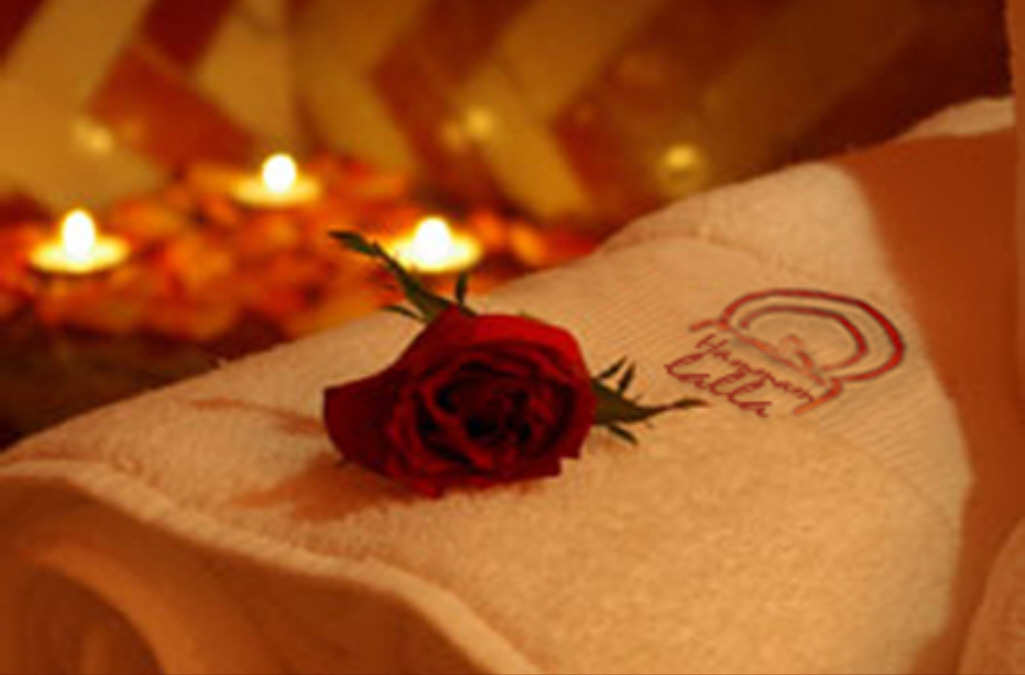 Located in the Medina, Hammam Lalla offers you affordable prices and a peaceful atmosphere, with your well-being as their top priority!
Enjoy a relaxing essential oil massage from skilled masseurs, to help you let go of any stress and pressure.
Price: From 200dh – 20$ per adult.
Address: Rue Bab Agnaou, Immeuble Tazi N 12, in front of Hotel Tazi Medina, Marrakech 40000
Contact: +212 6 68 76 25 02
Website: http://hammamlalla.com/
4. Hammam de la rose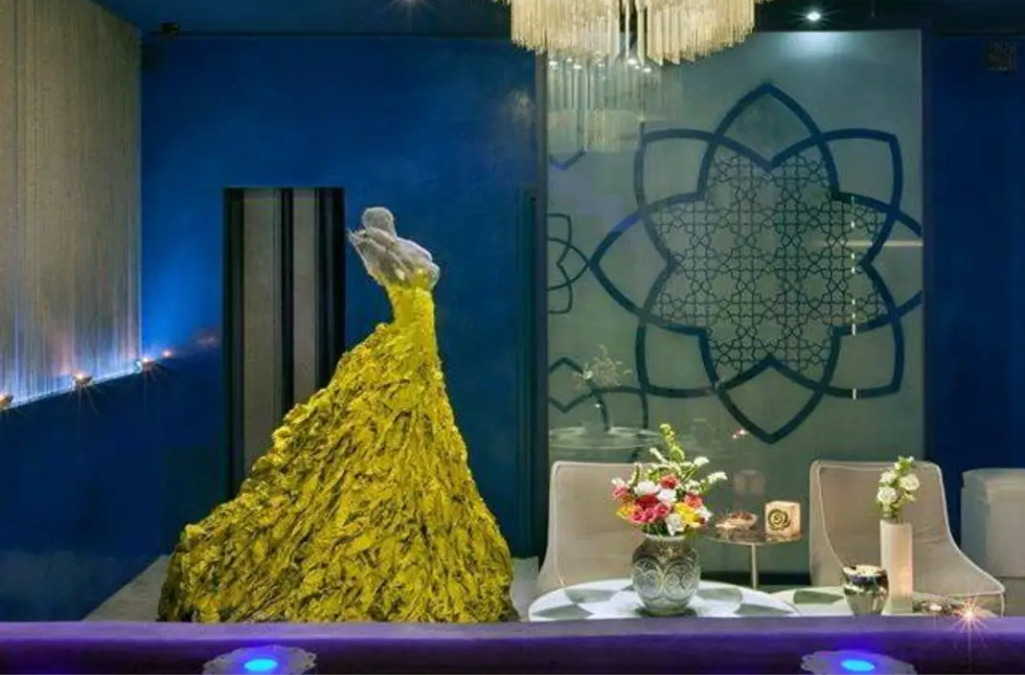 For a sensuous Moroccan experience, we recommend you Hammam de La Rose, a sanctuary of peace and tranquility in the heart of Marrakech, with modern comfort and design.
Let the stresses of the day be scrubbed away with their special exfoliating scrub, and rejuvenate your body with the Hammam's nourishing honey and argan oil treatments and mineral-enriched masks.
Price: From 250dh – 25$, per adult.
Address: 130, Dar El Bacha, Medina, Marrakech 40000
Contact: +212 5 24 44 47 69
Website: https://www.hammamdelarose.com/
5. Hammam Les Bains D'orient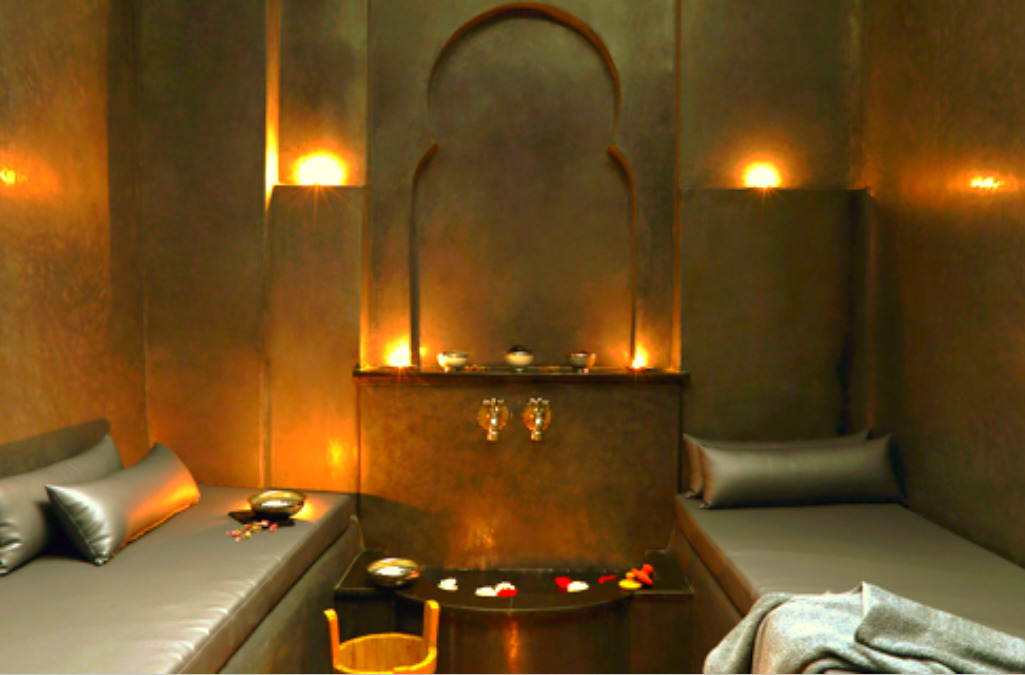 Escape from the outside excitement, as you step into this special place of relaxation!
Located right at the entrance of the Medina of Marrakech, Hammam Les Bains D'Orient welcomes you to a riad dedicated exclusively to well-being.
An experience where time and space take you on a whole new dimension.
It is also one of the few Budget-friendly Hammams In Marrakech, that allow online booking and payment options, making it one of the highest rated Hammams among visitors.
Price: From 270dh – 27$; per person.
Address: 214 Arset Aouzal, 40030 Marrakech, Morocco
Contact: +212 5 24 38 76 79
Website: https://www.les-bains-dorient.com/
---
After a long day of city hustle, nothing beats a long and profound session at an afforable Moroccan Hammam to release all the stresses of the day!
As a Morocco honeymoon activity or a relaxation session, our Moroccan equivalent of a sauna satisfies all your body and soul needs. But before you go, make sure you are fully prepared!
Our guide to the top 5 Budget-friendly Hammams in Marrakech covers everything from cultural etiquette to traditional steps. So, don't miss out on the chance to lose yourself in this soulful experience without overspending!