From the bustling souks of Casablanca to the tranquil villages of the Atlas Mountains, Morocco is a treasure trove of hidden gems waiting to be discovered. Its vibrant culture and rich history have inspired skilled artisans to create an array of unique and beautiful handmade products, which reflect the country's diverse heritage.
A Guide to the Best Handcrafted Treasures of Morocco
Morocco's cities each have their own unique craft specialty. Ouarzazate and the High Atlas Mountains are known for rugs and Berber slippers, while Marrakech is popular for its leather goods. Safi, Fez, and Meknes are the country's main pottery centers, and coastal cities like Casablanca are renowned for their handcrafted treasures.
In this article, we will take you on a journey through the souks and workshops of the country to discover the beauty and artistry of the Moroccan handmade products, from unique woodwork to stunning zellije tiles and more.
Rugs and Carpets
Moroccan rugs are a must-have for anyone looking to add warmth and texture to their home and have, in fact, a long history of over 3,000 years. They are a significant part of the Amazigh history and are handmade with abstract and geometric designs that represent a woman's life phases. The colorful Amazigh rugs were also used as gifts to foreign embassies and sold at auctions in the Middle Ages.
These handwoven creations are made using natural fibers such as wool and cotton, and each one is unique. Amazigh carpet designs vary by region, but all feature bold geometric patterns and vibrant colors. Whether you're looking for a statement piece or something to tie a room together, a traditional Moroccan rug is the best choice.
Leather Goods
Morocco is renowned for its exquisite handmade leather products, which are produced using traditional techniques passed down through generations of craftsmen. Tourists flock to the leather souks in Marrakech and Fez to admire the wide array of beautifully crafted bags, belts, jackets, and shoes on offer. One of the highlights of a visit to these souks is the chance to watch skilled artisans at work, hammering, stitching, and dying the leather by hand.
The quality of Moroccan leather is famous, and many visitors choose to purchase high-quality leather products as a souvenir of their trip. From luxurious leather jackets to fashionable bags and wallets, there's something for everyone in Morocco's busy leather souks. So, be sure to add a visit to these markets to your itinerary when planning your trip to Morocco!
Pottery and Ceramics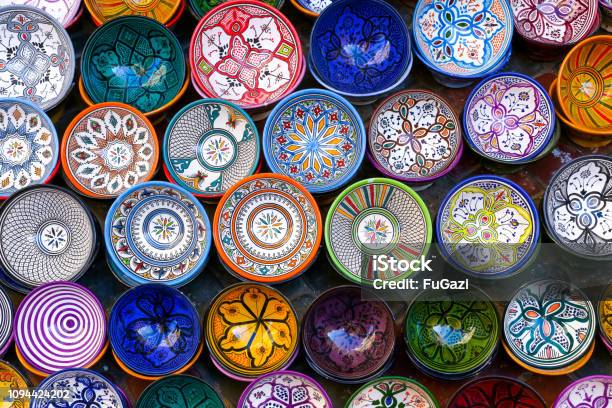 These Moroccan handmade products are an essential part of Moroccan art and culture. The country has a long history of producing pottery and ceramics, and it's still one of the most popular artisanal crafts in the country. The techniques and styles used by Moroccan potters and ceramicists have been handed down through generations, and each region has its own unique style and design.
Moroccan pottery is famous for its intricate designs. The blue and white Fassi pottery is known for its floral and balanced motifs, it is in fact, handmade in Fez's souks, where visitors can watch potters at work and make their own pottery. Safi is also popular for its colorful ceramics sold in local souks and used for decoration in homes and restaurants throughout the country.
From ceramic tagines to vases, Moroccan pottery adds a touch of authentic charm to any home.
Woodwork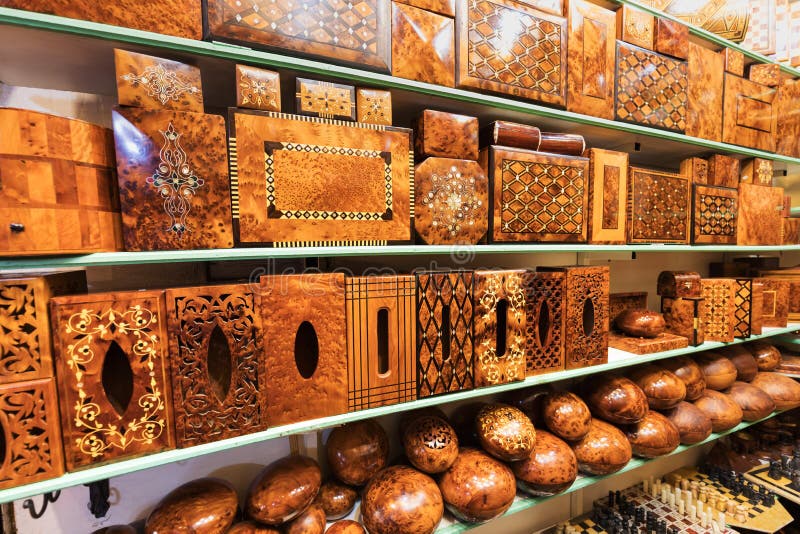 Moroccan Woodwork's creativity speaks for itself, as it can be admired in the country's Riads, mosques, markets and historical palaces. This architectural and decorative heritage is a testament to the skill and creativity of the country's woodworkers; and is known for its sophisticated designs and attention to details.
Using locally sourced woods such as cedar and walnut, craftsmen create everything from furniture to decorative objects. They employ traditional techniques, such as hand-carving, fretwork, and inlay, to create complex shapes and designs which are a must-see for anyone interested in the art of woodwork.
The fancy designs and ornate calligraphy make Moroccan woodwork a standout feature in any home.
Zellije Tiles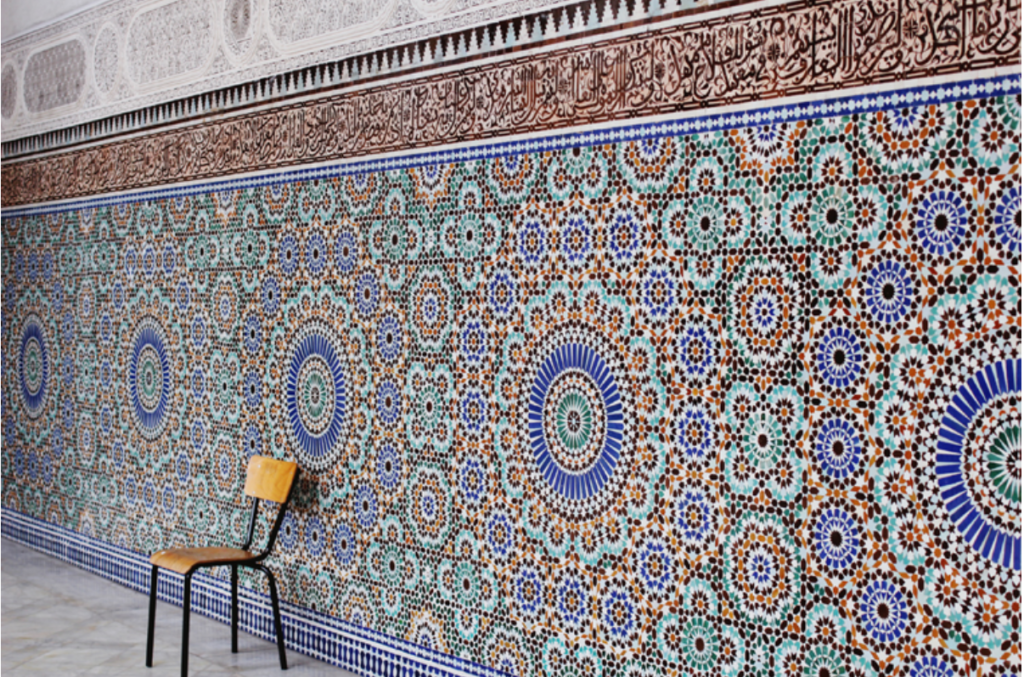 The most Instagrammable of all Moroccan handmade products is "Zellije". Zellije tiles are an art form in themselves, and are unique to Morocco. These Moroccan handmade tiles are adored for their delicate designs and vivid colors, which can be seen in Morocco's mosques, palaces, and public spaces.
Crafted from natural clay and pigments, each zellije tile is a unique work of art. The tiles are cut by hand and then carefully arranged to create stunning symmetrical shapes and floral designs. Whether you're looking to create a backsplash, accent wall, or flooring, zellige tiles are sure to add a touch of Moroccan charm and sophistication to any space. So why wait? Start exploring the world of zellije tiles and bring a touch of Morocco into your home today!
Moroccan Jewelry: Vintage Treasures
Moroccan Jewelry has a rich history and unique style that is appreciated for both its beauty and symbolic value. The craft is characterized by pure silver, gold, and metal designs, adorned with colorful stones and beads.
Amazigh people; the indigenous inhabitants of North Africa have been practicing the art of jewelry-making for centuries, passing on their traditions from generation to generation. Jewelry holds a special place in Amazigh culture and serves as a means for expressing identity and heritage. Today, Moroccan jewelry remains a popular craft, cherished for its history and enduring beauty.
Although vintage jewelry shops are a bit hard to find in Morocco, you can still find authentic pieces in historical cities such as Chefchaouen, Tangier, Fez, and Marrakech.
Amazigh Slippers : Babouches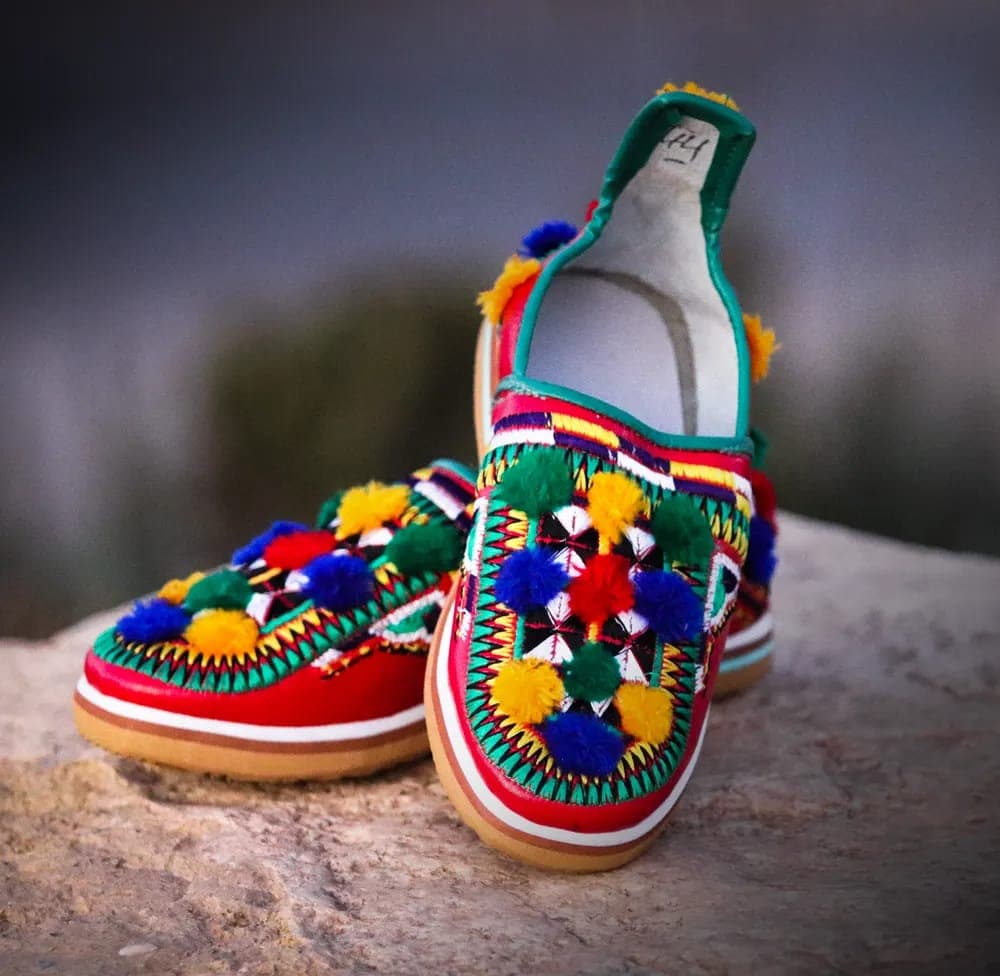 Morocco is well-known for its lively culture and exceptional crafts, and among them are the traditional Amazigh slippers, also called " babouches ". These handmade slippers are made of pliable leather, mostly fine goatskin, sheepskin, or cows, and dyed in various beaming colors using plant-based materials. They are also finely decorated with exquisite embroidery, creating a unique and eye-catching design.
In addition to their aesthetic appeal, the rounded-toe slippers are also practical and comfortable. Their soft, flexible construction allows them to be worn indoors and outdoors, and they are particularly popular in Morocco's hot climate. Today, Amazigh slippers are a popular souvenir for tourists visiting Morocco and can be found in markets and souks throughout the country.
When in Morocco, be sure to explore the tanneries in cities like Fez or Marrakech to experience the unique artistry of Amazigh slippers, one of the aesthetic Moroccan handmade products.
---
Moroccan handmade products are a must-see for anyone visiting the Kingdom. From the delicate designs of zellije tiles and woodwork to the vibrant colors of amazigh slippers and pottery, Morocco offers a wealth of inspiration for anyone interested in art and culture.
Whether you're a seasoned traveler or a first-time visitor, exploring Morocco's traditional arts and crafts is a must. So why not book your trip today and discover the beauty and creativity of Morocco for yourself? With so much to see and experience, it's no wonder that Morocco is a top destination for art lovers from around the globe.